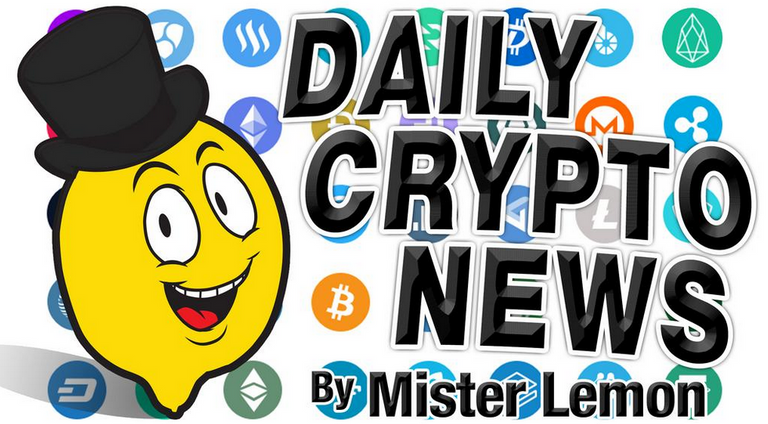 'No Capitulation' — Bitcoin Miners Completely Unfazed by Price Drop ;
The Case for a Bitcoin ETF ;
Chinese Central Bank Plans to Nip Young Crypto Businesses 'In the Bud' ;
Introducing the CoinDesk Markets Daily Podcast ;
Binance CEO: 'We Will Be Suing' The Block Over China Police Raid Story ;
🗞 Daily Crypto News, November, 24th 💰
STEEM Trading Update
Welcome to the Daily Crypto News: A complete Press Review, Coin Calendar and Trading Analysis. Enjoy!
Bitcoin (BTC) is not seeing capitulation among miners despite its price dipping over 15% in the past week, new data suggests.
According to estimates of Bitcoin's hash rate from monitoring resource Coin Dance, participation remains as strong now as before the price drop. Hash rate refers to the amount of computing power dedicated to maintaining the Bitcoin network.
Hash rate sees 2nd all-time high
According to some measures, the hash rate on Nov. 23, in fact, nearly matched its previous all-time high. At 134 quintillion hashes per second, Saturday's reading was almost identical to that from Oct. 10, Coin Dance statistics suggest.
BTC/USD traded at around $7,200 on that day, compared to $8,600 in October.

Issuers have submitted proposal after proposal for a bitcoin-based exchange-traded fund (ETF), and the SEC has delayed or rejected each one. It's time, however, to ask why and if the SEC's frustration over not having jurisdiction over cryptocurrencies is clouding their judgment. In my opinion, the answer might well be yes.
To start, it is important to recognize that there is a lot of investor interest in bitcoin as well as other digital assets. Nothing the SEC can do will diminish that, so the only relevant question is if a bitcoin ETF meets the standards for such a product and is consistent with other approved ETFs. That said, the SEC argues that bitcoin, despite having multiple markets that meet a reasonable standard for displayed price discovery, does not meet that standard.
From the disapproval ruling:
China's central bank has launched a new campaign to crack down on crypto trading in Shanghai on Friday, after speculation about softer regulations surged in the sector.
The official announcement came one week after CoinDesk reported a leaked notice that detailed an inspection plan for crypto-trading operations in each district of Shanghai.
"If investors see activities and operations related to virtual currencies in any form, they can report to authorities," the bank said in today's announcement, stressing the distinction between blockchain technologies and virtual currencies.
The bank, joined by other local financial authorities, including the Shanghai Internet Finance Rectification Agency, plans to monitor crypto-related activities continuously and "nip the small and early-stage businesses in the bud" to protect investors.
Welcome to the CoinDesk Markets Daily Podcast, a 10-minute look at what's driving the crypto markets today. The podcast appears daily and we'd love you to take a listen to this inaugural episode and subscribe in your favorite podcast app. You can also grab the MP3 here.
Tune in as CoinDesk podcasts editor Adam B. Levine and senior markets reporter Brad Keoun run down recent action in the markets and some of the most important crypto industry developments of the day.
https://art19.com/shows/markets-daily/episodes/533cf47a-9ac2-4e16-9ba2-b1d743ac1398/embed#
The CEO of cryptocurrency exchange Binance has vowed to sue industry media outlet The Block over alleged false reporting.
In an ongoing Twitter exchange on Nov. 22, Changpeng Zhao, known as CZ in crypto circles, promised to take legal action over an article that claimed Binance's Shanghai office was receiving attention from Chinese police.
CZ to The Block: "Own up and apologize"
"We will be suing them," he wrote in one tweet.
The offending piece originally surfaced on Friday and was part of multiple reports of a fresh crypto clampdown by China. At the same time, Bitcoin (BTC) slid to below $7,000.
The Block initially made its claims under the headline "Binance's Shanghai office shut down following visit by authorities, sources say."
🗞 Daily Crypto News, November, 24th 💰
Aeternity (AE), General Event (CRYPTO), Kyber Network (KNC), Matic Network (MATIC), NEO (NEO), Nucleus Vision (NCASH), Tezos (XTZ)
Genesis Devcon in Bangalore, India from Nov 24 - 25.
"Join us on November 24, 9 PM (GMT+8)!"
"The 0x v3 proposal was approved and will go live on Ethereum mainnet starting November 25th!"
"#LA Blockchain Game Dev & Investment Party!"
"The migration of ELI to GoC is on 25 November..."

STEEM Trading Update by my friend @cryptopassion
Here is the chart of my last analysis :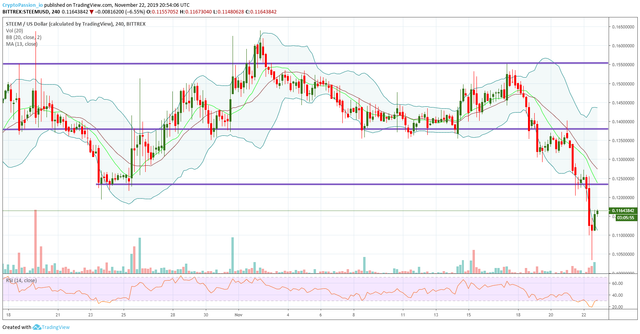 Here is the current chart :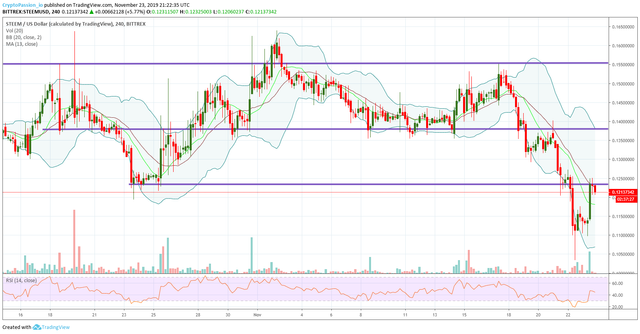 We are in a very dangerous momentum. We just did the pullback to go test the line at 0.124$ that we broke yesterday and the resuslt is very important. If we start to drop again from that line, it will confirm the pull back which is a powerfill pattern which confirms the previous move so here a drop. If we can break the resistance line, it could be the start of a bounce after that excessive drop.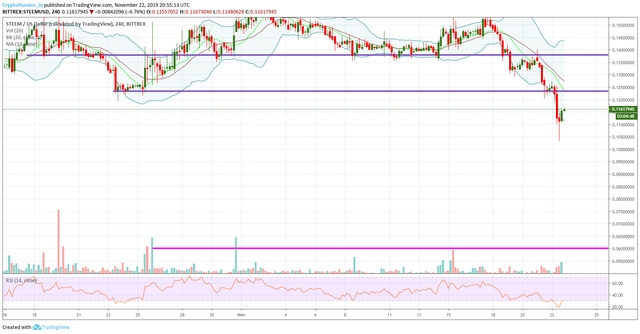 I traced in pink the all time low on the STEEM. What do you think? Will we go test that all time support line ?
Last Updates

You don't want to miss a Crypto news?
Join SteemFollower and get Upvotes back !