So 4 months ago I started using my twitter again and more than that I started up a new twitter account @steem-info
It was at a time when we were looking to add more marketing to STEEM in 2020 and how we would go about it.
https://steemit.com/blog/@niallon11/pushing-steem-on-twitter-steem-info
My idea was to take over the @steemit and @steem twitter accounts who had large followings and start creating some hype for the different projects happening on the blockchain. Every day my feed has some great posts about how much is happening on here by the community. The only problem with this being that they are shouting at the wall as the people seeing these posts are already here and excited about #steem.
I wanted @andrarchy and steemit.inc to start utalizing all of the tools in their toolbox to create more buzz about the good things happening here. To show what I was talking about I set up the account and started tweeting developments on STEEM and interesting posts here to see if anybody would take notice.
This was my starting point back in October and how the account looked.
Stats from the account
October
Tweets - 15
Impressions - 8198
New followers - 54
November
Tweets - 30
Impressions - 9919
New followers - 20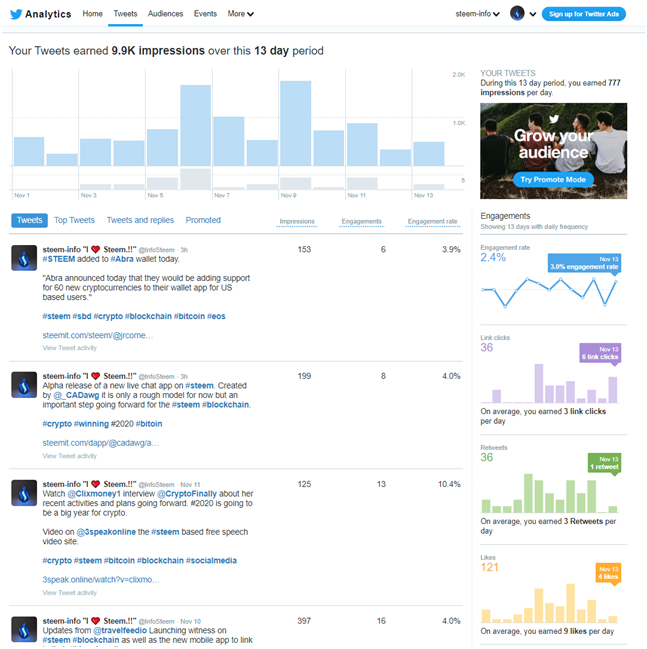 January
Tweets - 57
Impressions - 75400
New followers - 54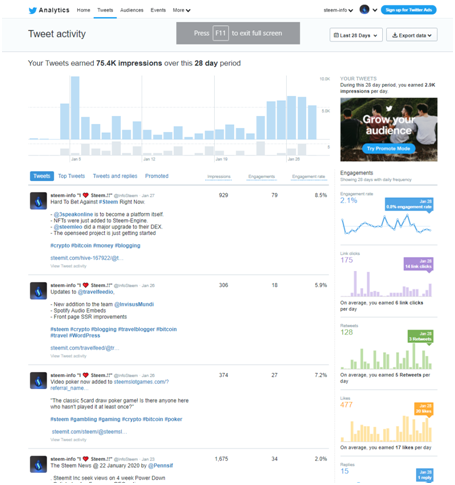 Those are some big increases in just two months since November. From 10k to 74k Impressions as the account grows. I've also been more active on it but there has been so much happening that it's been easy to keep the tweets flowing and with new followers there has been more likes and retweets.
The retweets have been great as they get me in front of more people and expand STEEM's brand to more people. If even one person joins an app or tribe from the tweets then it's a help.
Hopefully over time these tweets will get in front of even more people so likes and re-tweets are vital to grow the account and keep spreading the good news.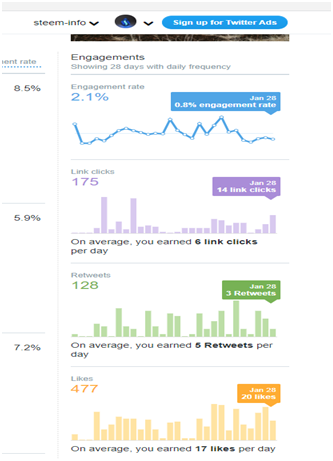 The take away from my twitter analytics are the click through into the main STEEM eco-system
175 over the past month which is well up from 36 in November. Some of these users probably already have STEEM accounts but from my new followers i'm sure that a lot of them do not and could go on to get one from seeing what is being built here.
Unfortunatly I haven't seen anything like this from steem.inc marketing yet with 100k followers which would be a lot more effective but I'm doing the leg work here for you if @andrarchy or anybody else want's to follow my account and just retweet anything that you think is suitable. This is only with my measly 180 followers so just imagine how much more effective tweets from the main STEEM account would be.
There are great things happening on #steem right now but unfortunately the rest of the world doesn't know it yet.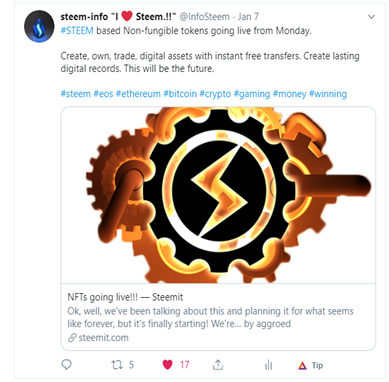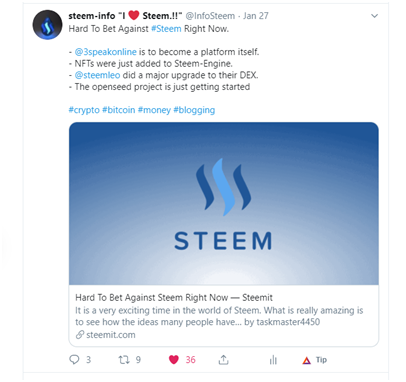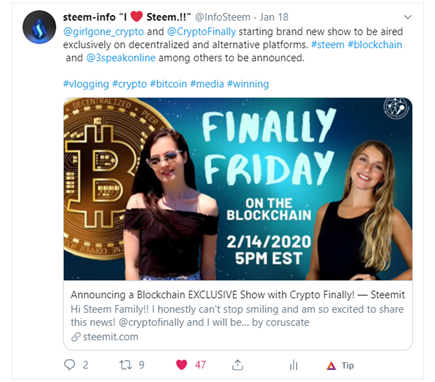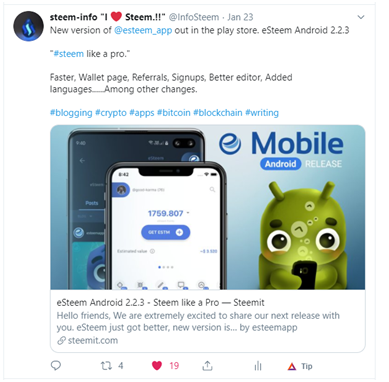 People like @coruscate, @cryptofinally and @theycallmedan sharing the message through social media and vlogging. Authors like @taskmaster4450 who post quality content every day and apps like @esteem and @splinterlands who are making a better experience for the userbase. This is what we need to show the world.
It's up to us to share this information with them so anybody on twitter please follow,



Like and share as much content as you can so that the account grows and reaches even more people with the STEEM message.