I'm coming at this from two sides today. I was out playing golf with 3 of my friends at a fairly high class or exclusive club yesterday which would be well known but not one of the top rated courses. A round there costs about €130 per person so that would be €520 for a group just to play a round there. Compared to some of the normal courses which would be about €100 for the group and a lot more reasonable.
Now there was no way in hell I'm paying €130 for a round of golf for multiple reasons, the main two being that,
I'm not that good at it so I'm not going paying big money to torture myself. I could hire a dominatrix for less than that and probably enjoy it a lot more.

I have more value in money than paying 5 times the normal rate for a brand name that is just a little bit nicer than the alternative.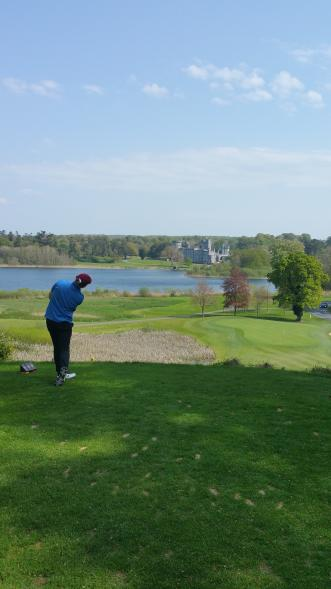 Now don't get me wrong it's a lovely course with a castle, a lake, woods, wildlife and walking trails but that's besides the point. That €130 is what we call the American price, (No offence America :D ) It puts a level of exclusivity onto the course when they tourists look at the best (most expensive) options on offer and go for those. We do it with whiskeys too. Sorry tourists....
Nobody in Ireland will pay that amount for the same product as we know better. As soon as you go to book a round you will get it down to about €50 or €60 just by talking to the person at the club.
That is still more than I like to pay so the real reason that we were there is one of our group has a membership with the club. This allows him to bring out guests for just €25. Much better. So for 1/5 of the price we get to play the same course (probably worse golf) as everybody else who payed €60 - €130 to have the same experience of that luxury product. Even then we wouldn't be there except for he is a member.
Since competing there for my club about 8 years ago I hadn't played it once until he joined and now i've played it 5 times since the summer. Not only that but he must have brought out over 30 guests during the same period as everybody wants to play it now that they get the guest rate for such a great but usually expensive course. So even at the reduced rate that one membership has probably earned the club almost an extra thousand from a market that they would otherwise never have touched.
That one person joining and bringing in his friends has suddenly brought in 20+ new people that have played, eaten there, posted on social media and told others about their great experience at such a top quality course. 1 person joining has made a huge ripple effect as we all have the same interest or golf community to share it to.
Now while this post might not mean much to the majority of people on STEEM right now, if there was a community for Irish golfers to share it too, I'm sure that it would get a lot more interest and get even more people thinking about playing there and looking for a deal.
Word of mouth is still hugely influential and with social media it has become even more so. The right people hold massive influence over their peers and can market faster than any traditional company.
We might not be there yet but looking at #STEEM2020 it might be time to get that Irish community started and offer them that exclusivity at the starting point of the social platform. The potential is there with the right tools in place. Then we just need to bring the people to the course.