I was attending today's first day of the Blockchain Conference organized in the city of Alicante, Spain. If I understood well it is a part of a conference series taking part in different cities in Spain to raise awareness of the possibilities of the blockchain. It lasts 2 days, and I will probably go tomorrow again to attend the rest of the presentations.
The first day was "shorter", it was only 4 hours of presentations, most of them were half an hour. The topics were mixed very well and it was material for everyone... From implementing blockchain technology to ticket sales for soccer matches of the national Spanish team to the ways of tax traders and people who work with cryptocurrencies...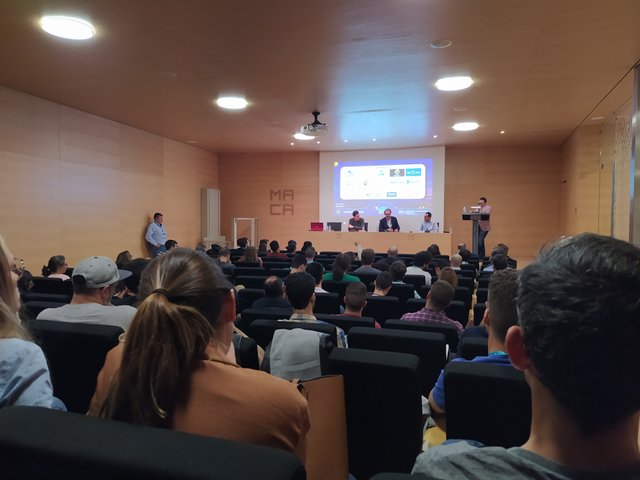 My original photo
As time passed, near to the end was organized a round table about blockchain and crypto in general... As the majority of the attendees know about BTC, Ethereum and maybe Ripple, the most talk was about those cryptos... But, the conclusion and the final question was the same as we are asking ourselves here on STEEM: "When will happen mass-adoption?"
Of course, nobody can give the exact answer to that question, but I catch one interesting answer from one of the speakers... And it was almost the same as we are always telling people in STEEM and blog posts in general (at least I do and I know that @jongolson mention that a lot)...
The thing (blockchain, cryptocurrency) has to be STUPID SIMPLE!
The mass-adoption will come when someone develops a dApp that can be used as a social network where you have your blogs, your wallet and you can pay with it your bills, tickets, etc... Sounds familiar? I have just described STEEM, but without the part of "simple payments"... As we still have a bunch of keys, without a good simple mobile wallet solution.
Just another interesting question was about blockchain adoption (not cryptocurrencies)... And the answer was similar to the previous... Implementation of the blockchain technology in certain companies can be very profitable, as in general, it cuts expenses... But, people are very often short-term thinkers, and they don't want to move forward if there are no radical cuts in a short period...
And one other thing that I didn't think about it... One of the speakers mentions that some of the companies owners here in Spain are afraid of the term blockchain because all the negative fuss made around scamming ICO tokens and coins back in 2017... That is a very bad image in public, but, it is understandable after all the negative things that bankers were throwing on crypto...
So, my conclusion is that we need to promote, promote, and promote not just STEEM, or CTP token, but all the blockchain technology and the benefits that it can bring to the people and society in general. We have to be ambassadors of crypto out there!
~ph~

.:. .:. .:. .:. .:. .:. .:. .:. .:. .:. .:. .:. .:. .:. .:. .:. .:. .:. .:. .:. .:. .:. .:. .:. .:.

Don't forget to follow, resteem and browse my steempage to stay connected with all the great stuff!

Do you need FREE affiliate marketing lessons? Join ClickTrackProfit

.:. .:. .:. .:. .:. .:. .:. .:. .:. .:. .:. .:. .:. .:. .:. .:. .:. .:. .:. .:. .:. .:. .:. .:. .:.