Goals For 2019 CHECKED, It's Time To Aim New Ones for 2020!
Everybody talks these days about NY resolutions, goals for 2020, focus, etc... So, it's my turn to do the same... But, before going into the future, I like to look to the past...
Generally, 2019 wasn't so bad as it looked like at the beginning... I had some major issues in my life at the beginning of the year, as I didn't know where to turn... My business ventures from 2017 and 2018 didn't go well and almost everything fell apart...
First time in my life I felt that I have no idea what to do and where to aim... For anyone who knows me, it will find that very hard to believe, as almost always, I was the person who would push others forward with finding ideas and work when it was impossible to find... But, it was like that... I knew that I have to stay in the crypto world, but I didn't find my place in it...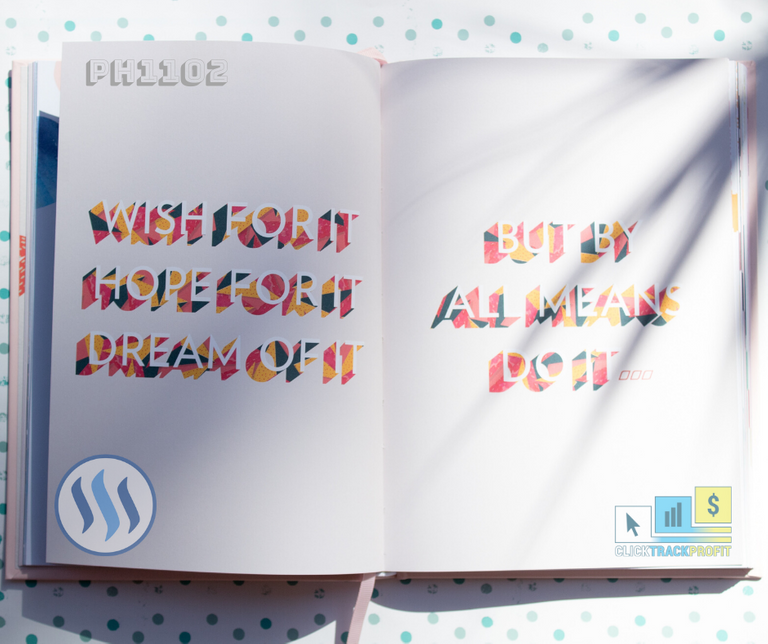 created on canva.com
Then, last year in January, I have found STEEM. I heard about it earlier, but I don't know why I didn't take a closer look. Anyways, it was love at first sight... I find again the purpose, and ideas started to flow in my direction... Okay, STEEM price didn't flow in the right direction, but that is another story... :)
A few months after that, I have found the SteemSavvy community (today CTP Tribe), STEEM Tribes are born forming other communities (before "official" communities) and the future now looks much brighter.
So, let's go back to the goals... I have made a list of goals a few months ago for the end of 2019, and it was like this: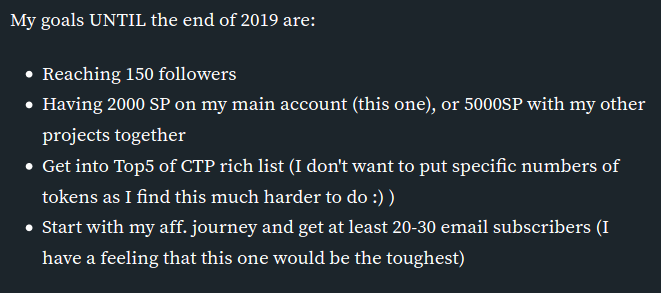 Firstly, I have to admit that I didn't accomplish all of them, but they were a good everyday motivational impulse...
I've got 141 followers, so I missed 9 to accomplish the goal

I have 1844SP on my main account, BUT I have reached 5000SP together in all of my projects, so this one is CHECKED!

Officially, at the end of 2019 I was in Top5 CTP token holders, but than @cruisin got some new crazy pills, bought a bunch of tokens, and pushed me to number 6 :) So, I will say that this one is also CHECKED!

I've got 24 subscribers on my list, so CHECKED!
Now, I would like to make a conclusion about these short term goals... I have written them down and put someone in the back of my brain... I pushed hard to reach them, but I didn't focus on any specific of them... They came to me... Especially about the last one and subscribers to my email list... I had no idea back in late October HOW will I reach that goal, but it looks that Universe had the plan instead of me... That is the POWER of written goals!
So, with this awesome short term goal success, I will write down my goals for 2020 in the hope that the results will be good as they were for the last ones. :) Focus will stay on STEEM and CTP token, so I will not write down my other coins/tokens as they are like a hobby for me...
Reaching 250-300 followers (this is really hard to predict and it can vary a lot)
SteemPower... I will go with the number of 10000K, but I will try to push further and try to reach at least 15K
CTP token is still my favorite, but it looks that there are others that think the same... :) So, I would be happy if I stay in Top10 at the end of the year...
Affiliate marketing goals? Hmm... I would be happy with 2-3 referral commissions of any kind until the end of this year...
Anyways, I will try to dedicate more time to the affiliate marketing part and list building, writing emails, promoting good programs and continue with branding myself with blogposts.
~ph~

.:. .:. .:. .:. .:. .:. .:. .:. .:. .:. .:. .:. .:. .:. .:. .:. .:. .:. .:. .:. .:. .:. .:. .:. .:.

Don't forget to follow, resteem and browse my steempage to stay connected with all the great stuff!

Do you need FREE affiliate marketing lessons? Join ClickTrackProfit

.:. .:. .:. .:. .:. .:. .:. .:. .:. .:. .:. .:. .:. .:. .:. .:. .:. .:. .:. .:. .:. .:. .:. .:. .:.
---
---