You know guys that I like to watch "weird" movies... :) This one is not so weird, but I would like to say that it's "different"... :) Also, it is not so old, but I would put it in the classic movie category... Did you recognize the movie from the title?
Yes, you got it right, it's a Little Miss Sunshine. I will try not to spoil too much the movie... If you didn't watch...
I don't know how, but I have missed a lot of great old movies... Luckily, I have another project here on Steem where I write about the new movies and share new trailers, and then I've been "distracted" with these gems from the past...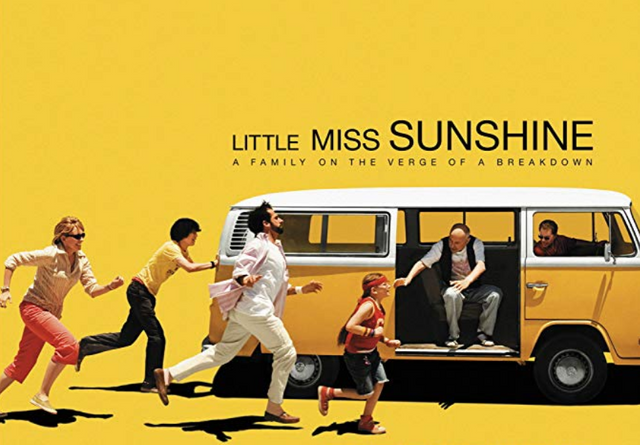 image by imdb.com
This movie and the family which is in the main focus are the mirrors of today's society... Maybe they are presented as stereotypes, but that was done with a reason... We have everything, ambitious father, innocent child, typical teenager, suicidal uncle, worried mum and finally, a grandpa in middle-age crisis (or old-age)...
But, I didn't bring up this movie because of that... One of the first scenes in the movie is Richard's motivational speech of "9 Steps of Success" and the last one on the list is REFUSE TO LOSE.
I know that it sounds corny, but actually, some of those steps are really good and should be followed if you want to succeed in your business. Refuse to lose would mean that we can't give up on the first fall (or fail), or in the second... or in the third... Actually, we decide when it is a game over, when is the moment that we have lost. If we refuse to lose, to call the game over, we will stand up and battle, again and again...
Just one thing more... The whole trip to the competition was a disaster, from the beginning, through a problem with a van, grandpa issues, Dwayne eyes problem, etc... The word FAILURE was written with bold letters in the sky... And, the moment when the family recognizes that there is no chance for winning is precious...
The moment when ALL of them want to give up, they stand up and bet against the odds! And stand behind their daughter, sister... That is the real value that they received that day and they DIDN'T LOSE, just because they were REFUSE to!
If you want some more great steps to success from the movie, take a look at two:
No Hocus Pocus, Just Focus
Think Big. Act Big... Be Big.
I would like to recommend everyone to watch this great movie masterpiece.
~ph~

.:. .:. .:. .:. .:. .:. .:. .:. .:. .:. .:. .:. .:. .:. .:. .:. .:. .:. .:. .:. .:. .:. .:. .:. .:.

Don't forget to follow, resteem and browse my steempage to stay connected with all the great stuff!

Do you need FREE affiliate marketing lessons? Join ClickTrackProfit

.:. .:. .:. .:. .:. .:. .:. .:. .:. .:. .:. .:. .:. .:. .:. .:. .:. .:. .:. .:. .:. .:. .:. .:. .:.