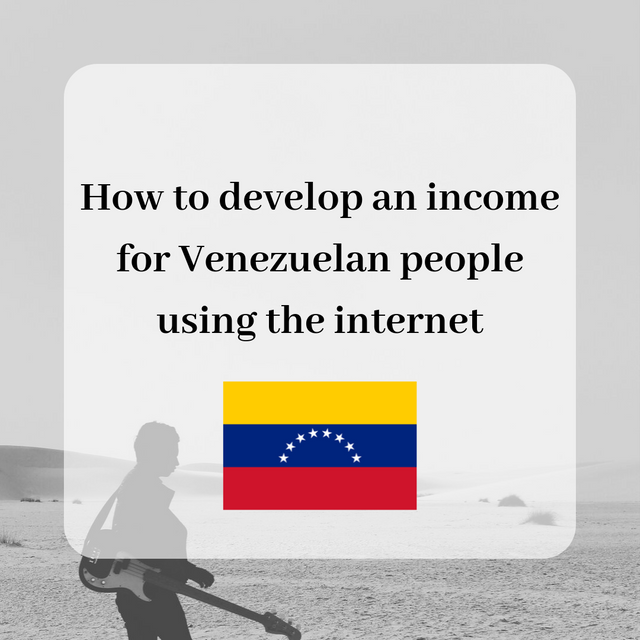 A friend of mine from Venezuela contacted me lately and asked me if I could help him to develop a new income source to pay back some debt. With the drop in steem prices, the income that can be generated on steem is not what it was in the past.
This made me think somewhat. An alternative would be to develop a @splinterland account and earn DEC. I realized that this is however not so easy. In order to have a chance to really make money with splinterlands, it is necessary to invest quite a lot first. When we play with a starter set, it's almost impossible to go above silver level and the income from DEC is very limited.
I asked myself the following question:
With the possibilities that are available at the moment in Venezuela, how could it be possible to earn an income online?
What income possibilities are available now?
Obviously it's almost impossible to run a business within the country with people having hardly enough to eat. So the income should come from abroad. At the moment the following sources of income are quite easily available:
All these income sources have in common that they don't offer a big income and are closely linked to the currencies.
What type of income sources could be developed
It would be possible to promote affiliate or referral links and develop an affiliate marketing business. It would also be possible to create digital products and sell them all over the world. I have some experience in this sector and I believe this could be a real alternative for people from Venezuela since they are well qualified and I believe that their knowledge is their primary asset. There is however one problem. A lot of the tools necessary for such projects do not come for free. How could a Venezuelan pay for such services?
I researched quite in dept the internet to find solutions that could allow somebody from Venezuela to build up his own products for free:
How to run a website for free
The basis for having an online business is a website that allows to promote services or products. A great way of doing that is to run a blog. Well surprise, we have an amazing tool here on steem. It's free and it even pays you to use it. The website to promote the products and services could be steemit.
How to host and sell digital products
I've tested a lot of services that allow you to create digital products. Very few come with a free service that allows to host and sell digital products. The best service that offers three free courses to an unlimited number of students is Thinkific. This website allows you to create your own courses. You can offer free or paid courses. There is a paypal integration which permits to sell your courses and get immediate income. The platform seems quite complex at the beginning and it probably requires some time to get used to it.
How to develop leads and create a list of followers
I've been using a service called Mailchimp. Mailchimp allows you to send e-mails and to manage your list of followers. The free plan allows you to have up to 2000 followers. What is amazing is that you can build fully automated e-mails for free. Let's say somebody signs up to your list. You can then program what kind of mails he should get from the start. Maybe just after signing up, he will get a welcome mail. Then two hours later you send him the first lesson of a course, then a day later the second lesson. This is fully automated and free! There is only one important limit. It's forbidden zu put affiliate or referral links in these mails.
How to create videos for free
When you want to create online courses, it's important to use video as a medium. For somebody from Venezuela this can represent a problem. Where to get a good camera and where to film. That's why I suggest the following procedure to create videos.
Step 1: Create a power point presentation using Microsoft power point or open office presentation (free software available here)
Step 2: Use the open source screen capture software OBS Studio to film your powerpoint presentation and record your voice. You can download OBS Studio for free here. If done properly, it's not necessary to edit the videos and you can upload them directly to dtube, youtube or to your online course.
What to teach?
When you want to develop an online course or any type of paid content, the one thing that will need most time to consider is what you want to teach. I realized that everybody has something where he is really good at and that there are always people who are less good than him and who could learn from him.
During my studies, I wrote newspaper articles for a very renown newspaper here in Switzerland. However I knew almost nothing about the subject that I had to write about. So I read several articles and developed my own knowledge first. After some development, I was able to write quality content for this newspaper. What I want to say is that everybody can become a specialist in a certain field. This field can be anything from arts, sports, business, health...
Building an automated sales funnel
This whole process will take a lot of time to build but once it is build, it could become a major source of income that works on autopilote. For that it is necessary to build a sales funnel. This is a path that should let visitors become leads and leads become customers.
Step 1: Building a lead capture page
This is the central page to make people become a lead, a follower. For that you need a lead magnet. This is a kind of freebie like an e-book, a check-list, a mini course. You offer this for free and it is this freebie that you will promote. The freebie should be in relation to the content of your product. So the leads will be already qualified, interested in what you offer. As a freebie you could use a part of your online course.
To build it you will need a free lead capture page with mailchimp. You can then automate that the user who enrolls gets the freebie attached to the mails that you send him. Here an example how such a lead capture page could look like.
In your posts you will always put in your signature the link to this lead capture page. For example: Get my free mini-course about subject abc.
Step 2: Build an automated e-mail sequence
The next step is now to let your lead become a customer. For that you can send him a couple of mails where you promote your online course. There you will link to the sales page of your online course that you will establish with Thinkific. The sales page should then play the trick to sell the course to the lead.
You can also send regular mails to your leads and give them notice when you write a relevant post.
Driving traffic to your sales funnel
Once you have built the sales funnel, it is important to build traffic. The best way to do this is to create many entry points to your sales funnel by posting the link to the lead capture page in many places. You can use steem posts, dtube videos, youtube videos, facebook, linkedin, forum and many other places to do so.
You end up with a machine that can generate income for you automatically. It's a lot of work to be done once but you can then multiply it by creating new products and using your existing mailing list to promote it.
A long term business
When you go into such a project, it's not something that will bring results immediately. You will need time till somebody buys your product. At the same time you will be able to develop your own brand and your competence in a certain sector where you have a specific knowledge.
The most important thing is that you do something that you are very good at. That you develop your area of expertise and that you develop yourself in this field. The more content you will produce, the better you will get and the more elaborate your products are going to become. This is a long term strategy.
Such a project is not limited to people in Venezuela. Everybody could do this. From experience, I know that it takes a lot of dedication and stamina. You need to be well organized and consider it as real work.
Please tell me whether you could imagine to start such a project?