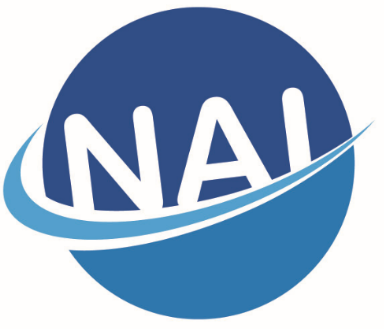 *Here is Part II of my Experience Report for the quarter on Steem which continues to be an incredible journey! As it expands, the amount of metrics continues to grow for me to continue to watch. Being a numbers guy, I really enjoy measuring and monitoring these metrics as it provides me great insights regarding areas of opportunity for improvement on my long term journey here!*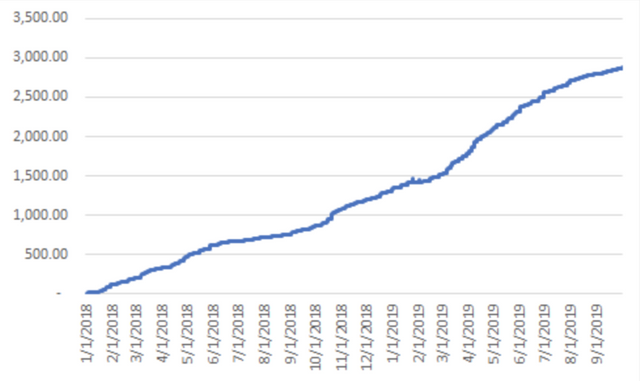 The only metric that seemed to really continue to forge forward for me despite the decreases seen in the other metrics was that of the earnings over the quarter. While not the most important for me, I think that earning here is a key factor for the sustainability over the long term for many community members. I still dream of a day that Steem and its ecosystem could be a reliable and sustainable source of income for me. However, we are still far away from that ability but not because of the amount; but because of my lifestyle. I think that many other Steemians around the world could really use these amounts to maintain their needs given certain circumstances.

With the Hard Fork now completely in place, it has been interesting to see how Curation Rewards are truly impacting earnings as well. Unfortunately, I have not found a great way to track and compare Curation rewards from author rewards, but with the SteemWorld site I am able to clearly see that Curation Rewards are becoming an important part of the formula to building an account here. I have now been opting to earn all of my post Rewards via 100% Power Up in order to accelerate that building of Steem Power over time and the benefits continue to compound as seen by my results.
The ability to diversify the sources of these streams has been key to me over time as I know that depending on my own engagement will ultimately lead to a reduction given how busy things can get to me. While that was not seen this quarter because I was able to post at least once every day except for Hard Fork day, the ability to earn from other activities continues to encourage me at the potential of the Steem ecosystem. The fact that Splinterlands related income is increasing also demonstrates how great my Collection has gone this quarter. Considering that this metric is probably understated as it does not include any earnings from DEC accumulation or from Reward Cards received, it may very well become the majority of my earnings potential.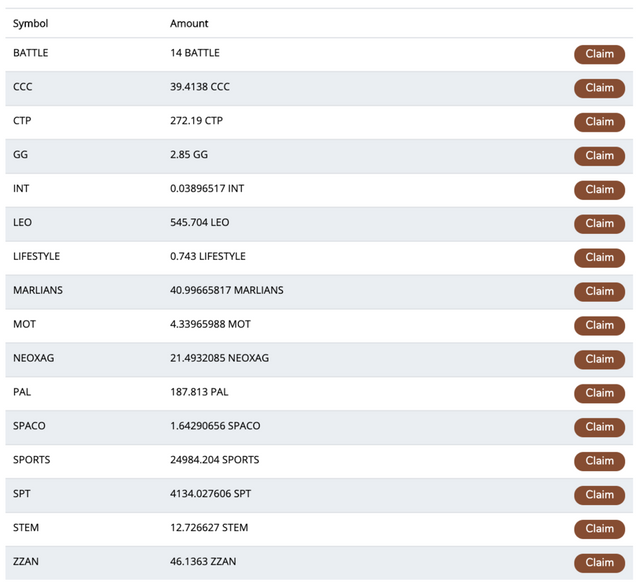 Another consideration that needs to measured this quarter for the first time is the fact that Steem Engine platform continues to also add another layer to the Steem ecosystem that is becoming significant. I have not really thought about how to measure these in terms of earnings and accumulating influence but I see it as "icing on the cake" as I have not done much more in my engagement activity other than to ensure that Tribes that are interested in the content I create being included in the tags every day. It has brought additional administrative burden that I try to avoid which is why I have not gone the route of creating another account to optimize nor do I claim these tokens every day. I still have not found a way to optimize with the little time I have so I just claim and mostly stake when I have the chance every couple of weeks.

However, you could see that this effortless journey has provided a good portfolio of tokens that are not even considered in the metrics I am sharing today. I continue to receive memos of people wanting to buy some of these from me as well as posts with strategies to become whales on some of these Tribes so it just adds to the potential and encouraging factors that the ecosystem has going for it in the future. With the potential launch of the formal SMT upgrade coming soon, I am sure that even more opportunities will become available for the communities in the future.
With the last quarter of the year ahead of me, I continue to be encouraged about the journey I am having here with the community. My focus remains on the metrics surrounding engagement as the incentives to do will follow no matter what the value of Steem becomes. The amount of intangible value I am accruing by participating in this community continues to exceed the amount of resources I put into it; particularly when considering the long term potential of value creation that I see around the ecosystem. The community continues to remain resilient despite the challenges we continue to experience form a market perspective which I believe make the potential be more sustainable longer term.
My goals remain the same towards year end as I want to achieve holding 25k Steem Power despite my continued efforts to allocate more Steem resources into Splinterlands. I think that the continued development of Tribes, projects, and communities on top of the Steem Protocol will eventually lead to value being created for holding Steem as the tokens being created will be mostly for the incentive structure of each community. I have yet to find a community of users as passionate about an ecosystem and despite the continued debate on the changes seen, I think that it is ultimately evolving into a platform with potential given its focus on social networking combined with blockchain technology.

Discord: @newageinv#3174
Chat with me on Telegram: @NewAgeInv
Follow me on Twitter: @NAICrypto
The following are Affliate or Referral links to communities that I am a part of and use often. Signing up through them would reward me for my effort in attracting users to them:
If you are like me and interested in continued personal growth, invest in yourself and lets help each other out by leveraging the resources Minnowbooster provides by using my referral link
Start your collection of Steem Monsters today at my referral link
Try the Partiko Mobile app to engage while on the go with my referral link
Get started on the latest game on the blockchain Drug Wars by signing up here!
If you select one of my above referral links, I will sponsor a @steembasicincome SBI in return. Let me know if you do so in the comments below!

DISCLAIMER: The information discussed here is intended to enable the community to know my opinions and discuss them. It is not intended as and does not constitute investment advice or legal or tax advice or an offer to sell any asset to any person or a solicitation of any person of any offer to purchase any asset. The information here should not be construed as any endorsement, recommendation or sponsorship of any company or asset by me. There are inherent risks in relying on, using or retrieving any information found here, and I urge you to make sure you understand these risks before relying on, using or retrieving any information here. You should evaluate the information made available here, and you should seek the advice of professionals, as appropriate, to evaluate any opinion, advice, product, service or other information; I do not guarantee the suitability or potential value of any particular investment or information source. I may invest or otherwise hold an interest in these assets that may be discussed here.
---
Sponsored ( Powered by dclick )
Invest in teh future of Russian Blockchain Talent. G...