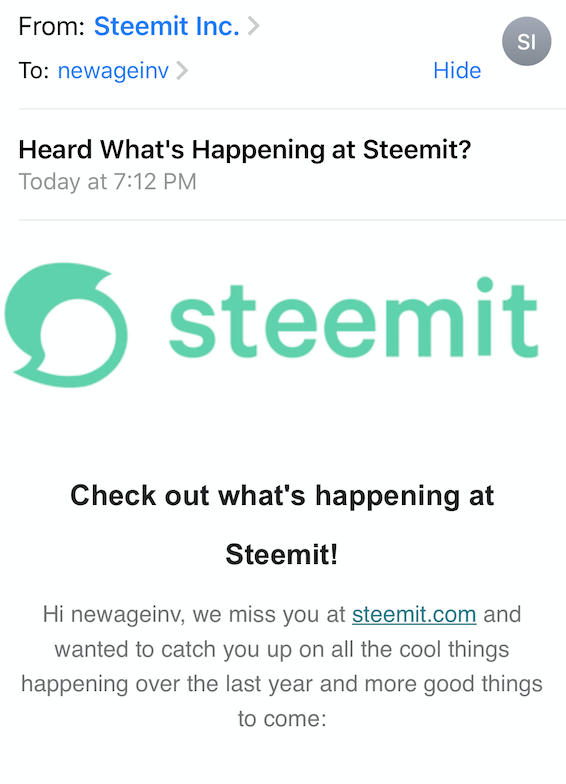 A couple of weeks ago, I was surprised to receive an email from Steemit, Inc. which provided some great information about the development we have seen for the last year or so. It was the first email I got from them since getting my account approved and confirmed almost two years ago. However, I was somewhat confused about it as it seemed that they were making an effort to "bring me back" to the platform and engage.
I first thought that it was due to the fact that my engagement has been down substantially over the last couple of months due to having been traveling and busy at work. However, I still get the opportunity to post everyday and continue my grind on Dapps like @actifit and @splinterlands which I also engage daily with. It made me think a couple of things that I thought I would share and see if they can actually get some feedback given some ideas that came up.
Steemit continues to be the most active Dapp or front-end platform to engage with the Steem blockchain but many others have emerged to leverage the technology of the protocol which have created communities surrounding them. This led me to believe that their metrics included me in the distribution because they thought I have not been engaging on Steemit despite using multiple Dapps and front ends. However, I cannot imagine that they do not track the actual blockchain to see how engaged we are; if so, I think it could be a lost opportunity to really leverage the power of data to target users that engage in particular interests. I ultimately saw that many if not all Steemit users and Steem accounts received the email so think they made a good first step but fell short of achieving impact.
While it was great to get a summarized update from Steemit, I felt that it was not new for me but realized that some of the items mentioned like #newsteem or other developments could attract potential inactive users to come back and read more to engage. However, I think it failed in leveraging the message to get a proper impact which is to probably focus on why many left in the first. It could be a number of reasons but one I think is the inability to assist new users to onboard appropriately by educating them about the features and even changes of the protocol. If users didn't understand this in the past, the email would not have helped them to do it now either. In fact, they may be even more confused when adding the layers of the DAO and even Resource Credits!
For those of use whom have remained engaged with the community and ecosystem, I think the email could have really focused on our interests. The blockchain being all public brings the opportunity for it to potentially being data mined to, like with traditional social media, provide a path to our interests. If Steemit would look at the blockchain, they would know that I enjoy to read and engage about Investing and Steem projects; so why not send me a newsletter type email showing me content creators or communities like Tribes that I have not seen? I think it could be an opportunity to entangle users more.
I think the fact that Steemit, Inc. seems to be looking to engage the over million users and accounts to bring them back to the ecosystem is a great step as it does seem like a "long hanging fruit" to bring activity back to the blockchain. This represent a 20x increase if all were to come back and engage. Even if only 5% come back, we could see double the activity here which could lead to more interest once again. I am sure that if some do actually come back and see the development achieved here, we could get back on the map and demonstrate once a gain the capabilities and flexibility of the Steem protocol like many have already done!

Discord: @newageinv#3174
Chat with me on Telegram: @NewAgeInv
Follow me on Twitter: @NAICrypto
The following are Affliate or Referral links to communities that I am a part of and use often. Signing up through them would reward me for my effort in attracting users to them:
If you are like me and interested in continued personal growth, invest in yourself and lets help each other out by leveraging the resources Minnowbooster provides by using my referral link
Start your collection of Steem Monsters today at my referral link
Try the Partiko Mobile app to engage while on the go with my referral link
Get started on the latest game on the blockchain Drug Wars by signing up here!
If you select one of my above referral links, I will sponsor a @steembasicincome SBI in return. Let me know if you do so in the comments below!

DISCLAIMER: The information discussed here is intended to enable the community to know my opinions and discuss them. It is not intended as and does not constitute investment advice or legal or tax advice or an offer to sell any asset to any person or a solicitation of any person of any offer to purchase any asset. The information here should not be construed as any endorsement, recommendation or sponsorship of any company or asset by me. There are inherent risks in relying on, using or retrieving any information found here, and I urge you to make sure you understand these risks before relying on, using or retrieving any information here. You should evaluate the information made available here, and you should seek the advice of professionals, as appropriate, to evaluate any opinion, advice, product, service or other information; I do not guarantee the suitability or potential value of any particular investment or information source. I may invest or otherwise hold an interest in these assets that may be discussed here.
---
Sponsored ( Powered by dclick )