Reflections on the day and a nod to the caring of some young people.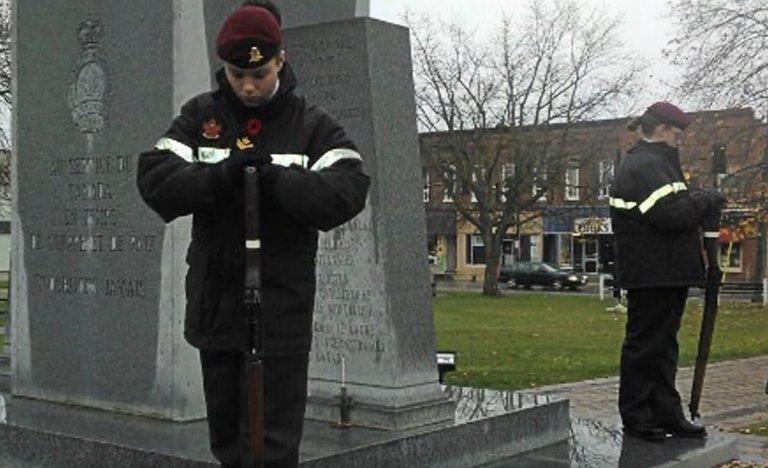 Remembrance Day, like so many things, was very different this year. I tuned in to watch the national service. Where there would normally be a large parade, bands and thousands of people, a very limited representation was present in order to keep the total in the perimeter of the National War Memorial to 100 people.
Masks were the norm. People were spread out six feet apart. Small contingents of the military marched up to the cenotaph. What was absent was the contingent of our aging veterans, the generation most vulnerable to COVID.
I've become used to seeing people, including our leaders, wearing masks. I have to admit, it still does jar me a bit to see people not shaking hands but tapping elbows. It's good though, it reminds us to avoid physical contact outside our immediate circles.
The Context of The Greatest Generation
When Canada went to war in 1939 we had a population of about 11 million people. Over 1 million responded to the call to serve. Today there are about 22,000 WW2 veterans still living. To add a little more context here, let's take a moment to think about that era.
In 1914 Canada went to war, the war to end all wars they called it. Canada had a population of 8million people. Just over 619,000 joined up, 60,000 were killed. As it was winding down in 1918 the Spanish Flu pandemic was winding up. Troops coming home from war spread the disease westward as they travelled home to their families. Before the pandemic ended in 1920 about 50,000 were dead, mostly in the 20 to 40 year old age group.
In 1929 the market crash brought in the Great Depression. A decade long period of economic suffering that those who joined up for WW2 were raised through. Life hadn't been easy by any means for the vast majority of them.
It's been 75 years since the end of WW2. My thoughts have repeatedly gone to that time and the incredible example of service and sacrifice those veterans represent. They spent years overseas often in horrific conditions.
For those here on the home front during the war, rationing was the norm. Resources needed for the war effort had priority allocation. The remaining resources were distributed through a ration card system to prevent hoarding and profiteering. Rationing started in 1942 with sugar and then coffee, tea, butter and meat in 1943. The best cuts of meat went to feed the troops. It was mostly organ meats being rationed at home.
Books of ration stamps were issued to be used at specified shops. If you went to another, you could be fined or jailed. The foods not rationed were not always in strong supply, so families had to be creative. Many started small gardens to supplement their rations.
When I think about what that generation went through, I find myself short of patience for the selfishness of so many who are being asked to follow public health measures for the good of all. The majority of Canadians do follow them. It's the minority, an often loud minority, who don't.
They think their 'rights' are being taken away from them. Who the fuck do they think earned them those 'rights' other than the very generation they so willingly endanger?
Okay, before I wander off on a rant on that subject.
The Dedication and Selflessness of Local Cadets
This morning I came across this video about the Cadet Vigil. The cadet corp is a quasi-military youth program some what similar to the ROTC in the US. In each of the last several years the cadets have mounted a vigil on the night of November 10th until after the ceremony on November 11th.
They were unable to do the vigil this year, the video was a project they undertook instead.
During the vigils they take turns in two hour shifts throughout the night. November nights in Canada can mean freezing temperatures, rain or even snow. Or all three. Can you imagine as a teenager wanting to do that? These kids don't just want to, they consider it a privilege to be allowed to.
Take a few minutes to watch the video:
I have worked with many of the youngsters who appear on this video. They often will show up to help at community events. When they take a task on, they are dead serious to do it and do it well. And then they have fun.
One year at Christmas time some cadets arrived to help distribute Christmas food baskets to members of the community. We were in the middle of a freezing rain event. One of our recipients called, the driver in the family had been hospitalized. Could we deliver the hamper? The caller cautioned me the driveway was long and quite icy.
I called out to the drivers and their helpers to see if we had one willing to assist. I saw a young cadet speak to her dad and then raise her hand. I repeated the caution about it being so icy. Her response was a very confident and firm "I have combats on and there is grass beside the drive I can break through the ice and forge a path". Her dad nodded and we sent the hamper off with them.
I was told later, she made three trips down that drive to deliver the hamper and wouldn't allow her dad to help.
It's the same determination that has them standing vigil for two hours in freezing cold temperatures and thinking it's a small thing to show appreciation for the freedoms we've been given.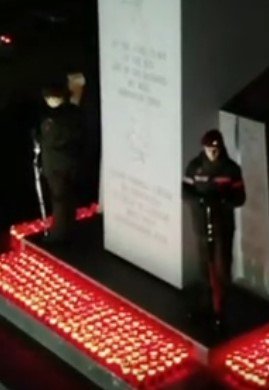 Lest we forget.
Images: screenshots from video

Want to know when shows are on in The Ramble? Sign up here