Now Freebitco.in Is Having FUN!

The stalwart, beloved Bitcoin Faucet and savings account has partnered with Funfair, rewarding FUN token holders with DAILY PRIZES and premium account perks!
---
Let's get one thing clear first: FREEBITCO.IN was absolutely rock-solid long before its recent partnership with the FUN token-- since 2013, actually. It has a flawless track record of payouts and security. I know because I've been a happy client for a few years now, and not one single thing has happened in that time which even slightly inconvenienced me.
Nothing. It's been a FLAWLESS VICTORY.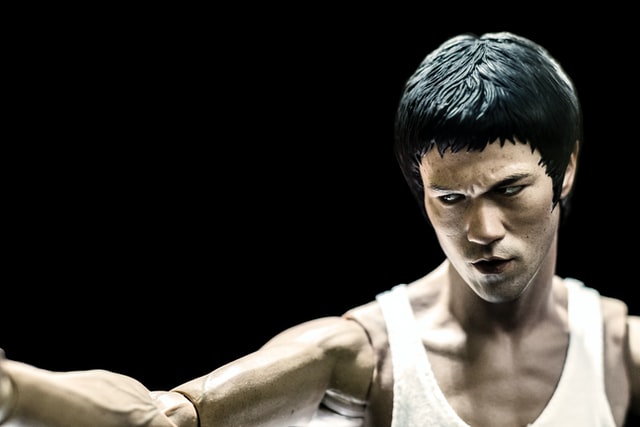 IMAGE SOURCE
Free Bitcoin, Literally!
I don't want to say the main function of the FREEBITCO.IN website is its HOURLY FAUCET, but I'm pretty sure it is what brings most new users to the table (for obvious reasons). I think the minimum for new users right now is 5 satoshis.
So you can receive at least 5 satoshis every hour just for clicking the free ROLL button on the main screen. And those rolls get you free Reward Points-- which are worth 1 satoshi each and can be cashed out when you reach 100,000 RP-- and free lottery tickets too, which is a weekly event with really good prizes!
That doesn't even scratch the surface of this site's value though! From its starting interest rate of 4.28% for all wallet balances over 30,000 satoshis to its lotteries and its gambling and wagering opportunities, this website has it all.
You can even win a Lamborghini-- or an equivalent amount of #BTC-- once every nine months or so! My advice: TAKE THE BITCOIN.
"I THOUGHT THIS POST WAS ABOUT FUN TOKENS..."
I have gotten a bit sidetracked, I'll admit, but there's a lot to highlight when it comes to FREEBITCO.IN. I've been impressed for a long time! Maybe I'll do a separate post detailing some of the other elements, and my own personal strategy.
For now… you're right: let's have some #FUN.

Freebitcoin has made a VERY rare and interesting manoeuvre: integrating the #Funfair token (FUN) into their site and membership infrastructure.
THE NUTSHELL: Buy and hold at least 2500 FUN tokens using your account balance and you will automatically start getting PREMIUM MEMBER BENEFITS! No fees and no strings attached. Now let's get into details...
I say "rare" because this website hasn't really changed at all since it began… they've been entirely about Bitcoin, and they've been very good at it. This decision by the team is obviously very interesting, especially when you consider the value they're offering participants in this new FUN-fuelled premium membership!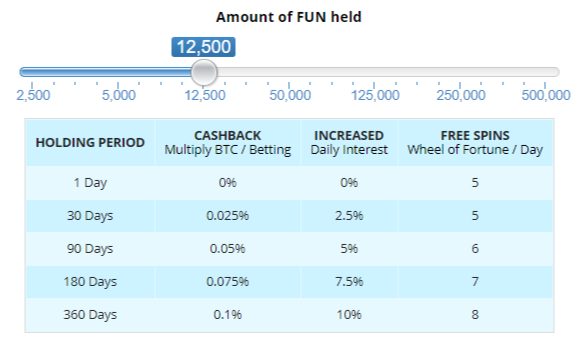 And "interesting" is an understatement that doesn't even come close to translating said value! An increased interest rate on my Bitcoin, a little BTC back from anything I spend on the site AND free daily Wheel of Fortune spins… did you see the benefits I get for holding 12,500 FUN tokens in the image above?
The higher interest rate (which only starts at the 12,500 FUN token level) and the cash-back really only make a big impact if you hold a significant BTC balance and play with it often… those free wheel spins every day, however, are SOLID GOLD!
Freebitcoin Has Discovered Steroids!
No joke. I routinely get 500 satoshis or lottery tickets… even 5000 of something once in a while. Lots of reward points. Lots of lottery tickets. And there are a few bigger prizes on there (like a Rolex) that don't seem out of reach. Check out the wheel...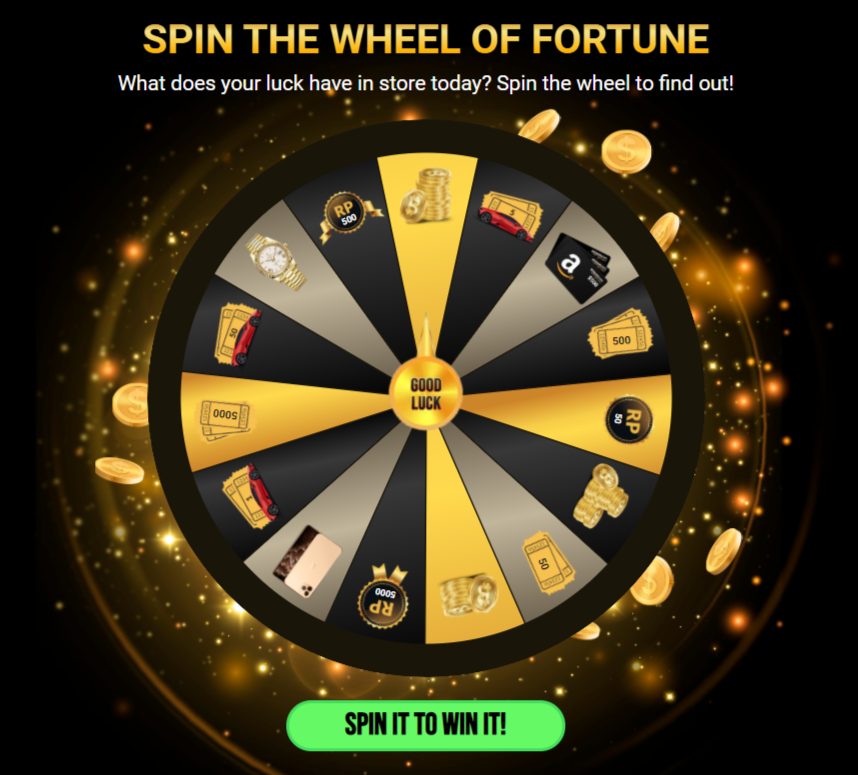 I currently get SIX ROLLS per day-- going up to 7 shortly-- so that's a lot of chances! And a lot of value, regardless of what you roll, honestly... I've hit so many 5000 spots over time that I almost wonder if they will be tweaking this element to make it LESS profitable for players. Time will tell.
It is possible that most players are gambling most of these sats back into the site, so they don't mind being generous with the wheel… and I'm not complaining. I hope that is the case, and I will quietly reap the benefits.
You Should Too!
There's never been a better time to become a FREEBITCO.IN user... and, like I said, there are a hundred different reasons to do so! Here's another one: it allows you to share referral income with your referrals... and I personally share 50% of all my referral income! So if you click any of the links in this post and sign up as a new user, you will automatically get half of all the income you produce as my referral.
Because I really do appreciate the support, and this new community is all about working together! So do me a favour by doing yourself a favour... and become a Premium FREEBITCOIN baller. It's a great day to stack some sats!
---
---
Let me know in the comments if you're a new referral of mine, so I can upvote and thank you sincerely. Or if you're already a Freebitcoin user, back me up and let the people know how amazing it really is! Thanks so much for reading. Have a great weekend! Peace. :)
---
---