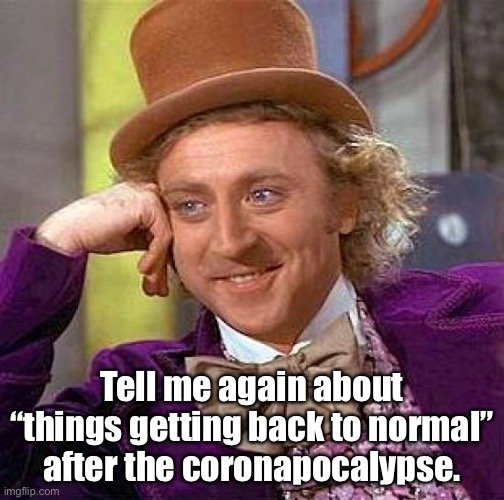 Coronavirus News, Analysis, and Opinion:
'We crushed it': How did West Virginia become a national leader in Covid vaccination?
West Virginia, a small, rural state with an older population, was expected to struggle with Covid and any vaccine rollout. Things turned out differently.
FDA advisers to consider recommending single-dose Johnson & Johnson Covid-19 vaccine this week
EU tells six countries to lift Covid border restrictions
Cryptocurrency, Investing, Money, Economy, and Debt:
Square Buys Another $170M in Bitcoin
FUD never goes out of style: Congress worries crypto used to fund domestic terrorism, Capitol insurrection
And oh looky, they mention DLive and Tron:
The other source cited by the memorandum was a live video of the Capitol protest on the video streaming platform Dlive in which the streamer received approximately $222 in cryptocurrency tips. According to the document, the platform has paid out "hundreds of thousands of dollars to extremists since its founding." The platform was purchased by peer-to-peer file sharing service BitTorrent, which is in turn owned by the Tron Foundation.
Money printer go bbrrrrrr... Jerome Powell Sees Easy-Money Policies Staying in Place
Texas está congelado:
Four Overseers of Texas Energy Grid Will Resign
Here's the kicker: "All four of the members who are resigning live out of state."
Full Death Toll From Texas Storm Could Take Months to Determine
Texans Get Relief on IRS Tax Deadline, Foreclosures After Storm
Ted Cruz says wife Heidi is 'pretty pissed' over leaked Cancun texts. Oh yes, we all feel her pain.
Politics:
RonJon Dreams Of Agents Provocateurs On Jan. 6
Top Capitol Riot Police Throw Each Other Under the Bus Over Botched Jan. 6 Response
Democrats Are Waltzing Toward an Easily Avoidable Political Disaster With Their COVID Bill
Giuliani Tried Dodging Getting Served
Al Jazeera Launches New Conservative Platform
Linda Thomas-Greenfield Confirmed as U.N. Ambassador
Ms. Thomas-Greenfield joined the foreign service in 1982. From 2008 to 2012, she served as ambassador to Liberia, before moving on to become the director general of the foreign service for about a year. From 2013 to 2017, she served as the top United States diplomat for African affairs, where she helped oversee the response to the Ebola epidemic. In 2017, she was among the diplomats pushed out of the department by Secretary of State Rex W. Tillerson.


Badge thanks to @arcange