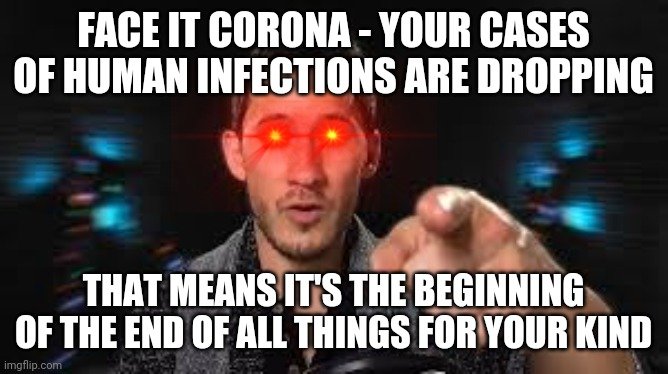 Coronavirus News, Analysis, and Opinion:
Texas governor to end mask mandate, allow businesses reopen at full capacity
Hospitals Struggle To Steer Clear Of Counterfeit Masks
I'm of two minds here. Patents, trademarks, intellectual property, yadda, yadda, yadda. But are some of the counterfeit masks as good at preventing the spread of disease as the genuine ones are? It's been a year now; why has 3M been so lackadaisical about boosting production?
The Real Story of the Covid Catastrophe is Larger Than You Know
Cryptocurrency, Investing, Money, Economy, and Debt:
Food Prices Are Soaring Faster Than Inflation and Incomes: As the Covid-19 pandemic wreaks havoc on economic growth, concerns about hunger and malnutrition are rising around the world.
It's Not Just Texas. The Entire Energy Grid Needs An Upgrade For Extreme Weather
Nouriel Roubini is clueless about Bitcoin but is otherwise a pretty smart guy. FWIW he says there are 10 signs a greater depression is coming.
Virus Did Not Bring Financial Rout States Feared
As it turns out, new data shows that a year after the pandemic wrought economic devastation around the country, forcing states to revise their revenue forecasts and prepare for the worst, for many the worst didn't come. One big reason: $600-a-week federal supplements that allowed people to keep spending — and states to keep collecting sales tax revenue — even when they were jobless, along with the usual state unemployment benefits.
By some measures, the states ended up collecting nearly as much revenue in 2020 as they did in 2019.
Politics:
GOP Lawyer Admits Voting Restrictions Hurt Democrats
A Republican attorney defending Arizona's voting restrictions in front of the Supreme Court told justices Tuesday that the GOP was defending the measures because they disadvantage Democrats.
Sarkozy represented a toxic brew of ethnic nationalism, anti-elitism, and corruption. Sound familiar?
"There is nothing more dangerous than a reckless asshole who thinks he is smarter than everyone else."
— Former House Speaker John Boehner, describing Sen. Ted Cruz (R-TX) in his new book, On the House.
Israel in talks with Saudi Arabia, UAE, Bahrain for defense alliance against Iran. What could possibly go wrong?
Oil Trade Group Poised to Endorse Carbon Pricing
The American Petroleum Institute, one of the most powerful trade associations in Washington, is poised to embrace putting a price on carbon emissions as a policy that would "lead to the most economic paths to achieve the ambitions of the Paris Agreement," according to a draft statement reviewed by The Wall Street Journal.
UBI-Lite? And then of course the question of who decides when "bad" is over: Key Senate Democrats Want to Keep Sending Americans Money As Long As the Economy Remains Bad
Why Republicans Can Oppose Biden's Popular Relief Bill
Voters may like a president's policies in the abstract but still think he isn't doing a good job or that his policies aren't that effective if those policies aren't bipartisan. Think of this as the Mitch McConnell theory.
Put another way: The opposition party can guarantee a lack of bipartisan support — and then criticize the president for lacking bipartisan support.
National Latino groups condemn Goya Foods CEO for calling Trump the 'actual president'
Watchdog Issues Scathing Report on Ronny Jackson
The Department of Defense inspector general has issued a scathing review of Rep. Ronny Jackson (R-TX) during his time serving as the top White House physician, concluding that he made 'sexual and denigrating' comments about a female subordinate, violated the policy for drinking alcohol while on a presidential trip and took prescription-strength sleeping medication that prompted concerns from his colleagues about his ability to provide proper care.
Serendipity:
Tiny cacao flowers and fickle midges are part of a pollination puzzle that limits chocolate production
Possible 'Banksy' artwork appears on Reading prison wall
Dr. Seuss Enterprises Will Shelve 6 Books, Citing 'Hurtful' Portrayals


Badge thanks to @arcange
Meme credit: TheQuinnDruRocksHard (source)