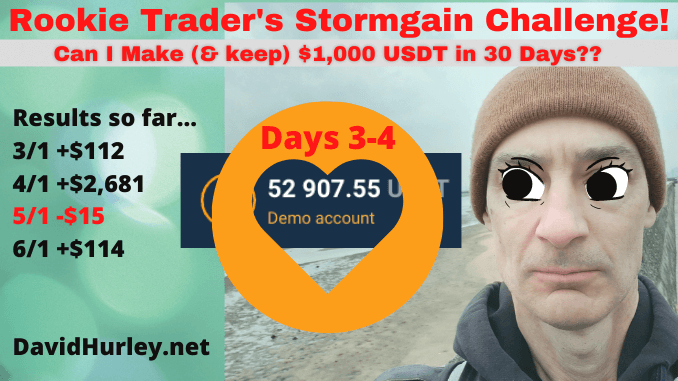 Yesterday was a long slog trying to trade my way into profit on the Stormgain demo-trading platform in an uncertain market.
By the time midnight struck I was still $15 in the red :( with one trade on CryptoIndex10 fluctuating below the break-even mark...
I kept the trade open, set a "take profit" target of $150, and - more riskily - protected the trade with the "auto invest" option, and went to bed...
I felt that the underlying market was still very bullish, and that the market would have to plummet massively for my open "auto invest" position to chew through all $52,000 worth of demo-money on my account! (Not sure I would have made this decision if the mula had been real!)
The Market Recovers! :)
Happily, this morning, CryptoIndex10 had recovered and I was $129 in the money! So I closed out the trade for an instant profit for today of $114.
Since then, whenever I have had opportunity to look at the markets, nothing has presented itself as a good trade. Hopefully, that is a sign of progress. I am not itching to make trades... the novelty of clicking the "Buy" or "Sell" button has worn off as I have learnt that quick and careless clicks often come with painful consequences!
"Knowing" it is not enough. You have to experience it and then digest the experience... Or at least, I do!
There were also some useful lessons to be learnt from yesterday's experience.
Lesson 1: Platforms Can Suspend Trading
When Bitcoin was falling quickly, the position suddenly froze, so I guess Stormgain suspended trading.
Lesson 2: Set Aside Enough Time To Complete Short-Term Trades
Don't open scalping trades just before dinner time! LOL!
#3 Lesson 3: The risks and Benefits of the "Auto Increase" Feature. ##
What I have learnt about the "auto increase" option is that while it is highly risky if the market continues to go in the wrong direction, it can quickly turn a ghastly looking deficit into a healthy profit if the price begins to recover.
Lesson 4: Control Your Trading Itch!
As I mentioned, I have not taken out any fresh trades today as nothing lined up for me during the periods of the day when I was on the Stormgain site.
Demo Trading Results So Far
Approximate Daily results:
3rd Jan +$112 (3 + / 0 – trades)
4th Jan +$2,681 (7 + / 2 – trades)
5th Jan -$15 (7 + / 6 – trades)
6th Jan +$114 (1 + / 0 – trades)
Exact total profit so far = $2,907.55
Come along for the ride as I try to learn how to trade my way to a profit!
If you are an experienced trader, any advice would be welcome. Let me know where I'm going wrong, or post some tips in the comments below.
Check out Stormgain at: https://fwd.cx/WmUzkey5BqVp
Looking for a safer way to accumulate and store bitcoin? This is what I use: https://freebitco.in/?r=37315680
David Hurley
P. S. For a more detailed report see https://davidhurley.net/stormgain-crypto-trading-challenge-days-3-4-1st-negative-day-but-not-too-bad/
P. S. For a more detailed report see https://davidhurley.net/stormgain-crypto-trading-challenge-days-3-4-1st-negative-day-but-not-too-bad/
Disclaimer: I am not a financial advisor and this is certainly not financial advice. Simply the musings of a rookie trader playing with pretend money…