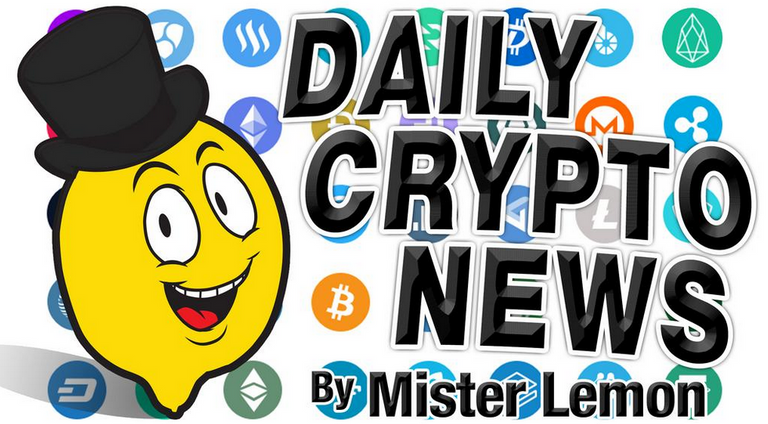 Cryptocurrency Influencers Speak Out On YouTube Deleting Crypto-Related Content ;
Chinese Internet Giant Tencent to Launch Digital Currency Research Team ;
Meltem Demirors on Government Digital Currencies and Why 'The Halvening' Gets Weird ;
University of California at Santa Barbara Just Finished Its First Accredited Blockchain Course ;
Securities Regulator Says Crypto Investments Are Top Investor Threat in 2020 ;
🗞 Daily Crypto News, December, 26th 💰
STEEM Trading Update
Welcome to the Daily Crypto News: A complete Press Review, Coin Calendar and Trading Analysis. Enjoy!
YouTube, one of the most popular social media platforms for video sharing, has aggressively started deleting cryptocurrency-related content from some of the biggest influencers in the industry.
Based on Twitter and Reddit threads, YouTube suddenly began deleting a number of cryptocurrency videos on Dec. 23.
YouTuber Chris Dunn, whose channel has over 210,000 subscribers, noticed on Monday that the platform had removed all of his videos that mentioned cryptocurrencies.
Following this, Dunn tweeted, "@YouTube just removed most of my crypto videos citing 'harmful or dangerous content' and 'sale of regulated goods'... it's been 10 years of making videos, 200k+ subs, and 7M+ views. WTF are you guys doing @TeamYouTube?!"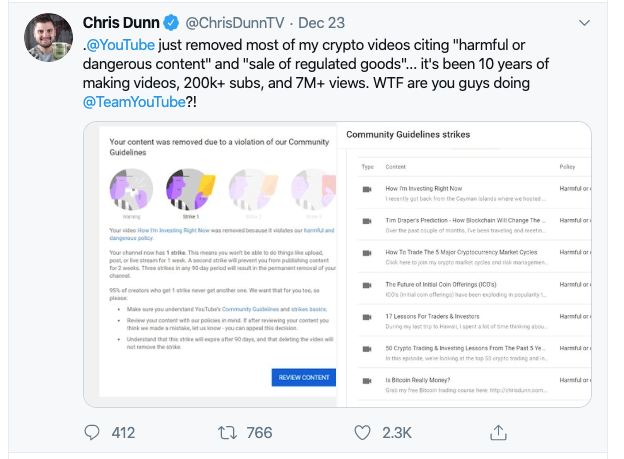 Tencent, the Chinese internet giant and owner of WeChat, is reportedly forming a team to explore possible new use cases for cryptocurrencies.
According to reports by Chinese media, Tencent issued an internal notice informing employees it was searching for someone to head a new cryptocurrency research unit, which will form part of the company's payments wing.
The new team will look at how to use digital currencies in its payments platform as well as explore other possible business applications. It will also consider how cryptocurrencies could be used within existing and future regulatory regimes.
The research team will reportedly support government initiatives in the area. The People's Bank of China (PBOC) is said to view Tencent as a prospective issuer for the digital yuan under development, according to reports in Quartz and CNBC. Reports suggest the new Tencent unit will work on developing the government's pilot digital currency plan in the city of Shenzhen.
One of CoinDesk's ten most influential people of 2019, Meltem Demirors is a crypto renaissance woman, known best for investing, operating as CSO of CoinShares, and for explaining 'shitcoins' to Congress.
In this end of year Breakdown, Meltem argues explains why the entrance of governments to the digital asset game is the most significant story of 2019, as well as suggesting that the presence of an entirely new financial infrastructure around bitcoin means the halvening is likely to be unlike what anyone thinks.
The course, which was taught as a computer science class through the College of Creative Studies, was formed in response to requests from the Blockchain Acceleration Foundation (BAF), a nonprofit organization composed of students, professors, blockchain advocates, and interested individuals who want to facilitate the mass adoption of blockchain technology.
Blockchain at UCSB co-founder and Blockchain Acceleration Foundation president Cameron Dennis noted that despite blockchain's rising popularity on college campuses, students at UCSB previously had few opportunities to learn about the emerging technology outside of Blockchain at UCSB meetings. After numerous discussions with UCSB administration, Dennis was able to convince the university that a computer science course focused on blockchain was needed. Dennis said:
"My goal with this course was to teach radically-curious computer science students about compelling blockchain use-cases that can disrupt society's most entrenched institutions while revolutionizing corporate governance."
Cryptocurrency investment is among the top five investor threats for 2020, according to the North American Securities Administrators Association (NASAA).
The NASAA, the oldest international investor protection organization, has officially announced the top five products or schemes likely to defraud investors in the coming year. In order to provide the report, the authority surveyed state and provincial securities regulators across the United States, Canada and Mexico.
🗞 Daily Crypto News, December, 26th 💰
"The third round lucky draw will end on Dec 26th, 2019 at 23:59 (GMT+8)"
Team updates at 4:30 PM UTC/ 11:30 AM EDT: Engineering, Node network, Product/UX, Helpdesk, Legal, BD, Marketing, CEO Closing thoughts, AMA.
"Release Charity Platform on Android"
Pre-IEO and end of year AMA with the CEO and CTO.
Crypto.com Coin (CRO), TomoChain (TOMO)
Mark the date: Dec 27th, 4PM HKT on the Crypto.com Telegram channel.
STEEM Trading Update by my friend @cryptopassion
Here is the chart of my last analysis :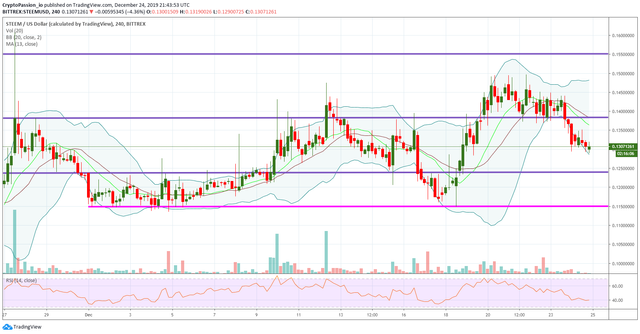 Here is the current chart :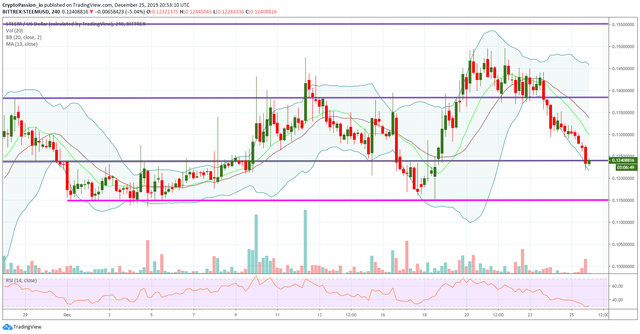 As expected and predicted yesterday, we are testing the support line at 0.124$ and till now we don't have yet the final result. Will it be a bounce or will we break that line, it is too early to know it. The market is lacking of volume and it is better to wait normal days to have a real idea of the direction that the market will take.
Last Updates

You don't want to miss a Crypto news?
Join SteemFollower and get Upvotes back !