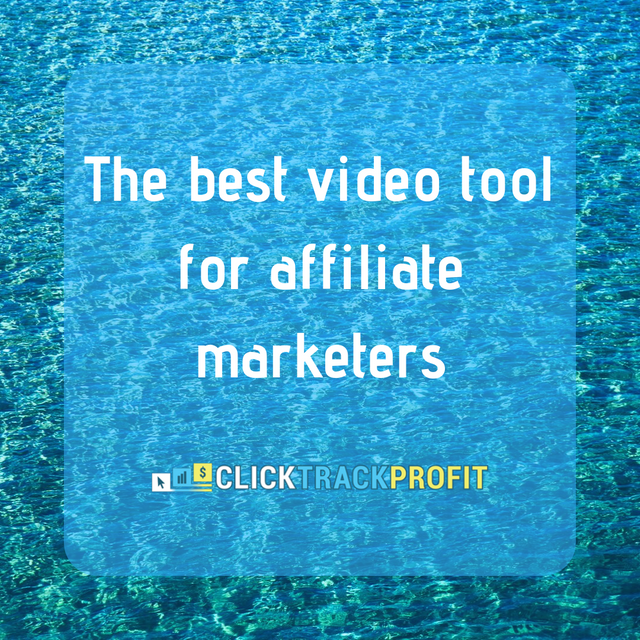 The strategic importance of videos in affiliate marketing is growing every day. Video is replacing text more and more and every affiliate marketer or any business should start to use video to promote their services or products.
Today I've read a post by @jongolson about evergreens in affiliate marketing. I recommend to read this post if you are interested in promoting affiliate offers. Evergreen denotes a product or service that doesn't "die" with time. It means that the same offer will still be interesting in a couple of years. Hence it might be much more interesting to promote such a service instead of product launches that are very short lived. I believe that every serious entrepreneur should consider using a tool to produce videos and the service I present here can be considered to be Evergreen.
How I found an amazing video tool
A couple of years ago, there was a JV product launch that enabled you to put your logo in existing videos and to create stunning effects. Before I make a purchase, I tend to take a lot of time to read through all the details of an offer. That's how I found in the small print some very important pieces of information that discouraged me from the buy. For example in this offer the price included only a very basic set of scenes. So I would have needed to invest in upsells to get what I wanted.
I liked the concept idea however and I began to search for similar services and I found something that was much better, much cheaper and much more userfriendly.
Renderforest: the best video tool that I know
I found a service called renderforest that allows you to do almost anything you can imagine. You can create:
logo intros and exits
explainer videos
slideshow videos
promotional videos
music animation videos
corporate presentation videos
and much more
To understand what renderforest can do, I created a short video in less than 5 minutes to illustrate it:
video is not listed on youtube
I've been using renderforest for more than a year and I've just renewed my abo. What is great is that you can use the website for free. You can even download the videos that you create with a watermark as you can see in the video above. You can test the website as much as you want before you actually invest anything.
What you can achieve is breathtaking. No camera needed.
Cloud service that allows to access files from anywhere
What I like about renderforest is that you can use all the services and you only have to pay if you want to actually produce something real to download. The service is completely online. You don't have to install any software on your computer. Your files are accessible from anywhere in the world and you are always able to edit them.
Use your own content or license free videos and pictures
It is very easy to import your own file into the service. But you also have access to a huge database of license free videos and images. You also have a quantity of background music that you can use. It's also possible to add voice over to your video. New templates and scenes are added continuously to the site so that you can return regularly to discover what is new.
Videos are created in minutes
With renderforest you can create videos in minutes. It takes no time at all to create your videos. It's just drag and drop.
Here another video that I created in full quality with Renderforest:
According to most experts, videos will take an ever growing importance on the internet and every affiliate marketer should try to master this vehicle. Check out renderforest today. By the way, Renderforest has an affiliate program that pays up to 25% commissions.
All the links to renderforest above contain my referral url. If you want to join renderforest without using my link use this url: https://www.renderforest.com