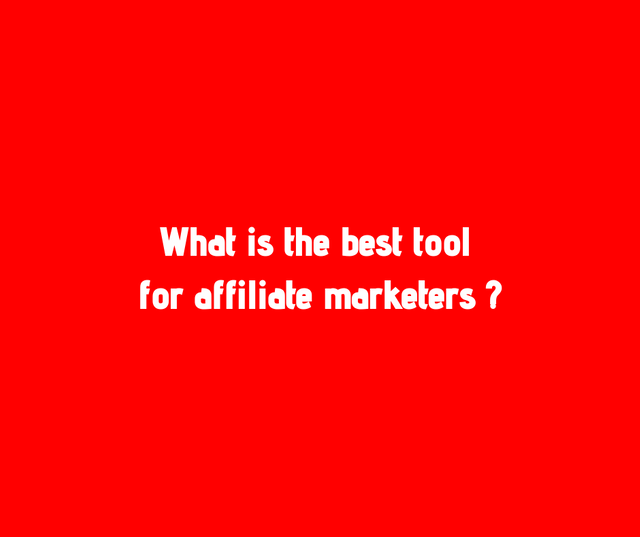 We have a new tribe on steem thanks to @jongolson and his ctptalk.com. He is presenting the steem world to his community of affiliate marketers. Probably they do not realize it yet but they are presented to the very best tool for affiliate marketers!
What is the best tool for affiliate marketers – Answer: Steem
What do affiliate marketers need ?
If you want to be successful with affiliate marketing of course you need products and services to promote but in order to promote them you need two things: Webspace and Traffic. Steem is providing both of these things at premium standings!
The steem ecosystem provides unlimited and free webspace with integrated SEO
When you have a steem account and as long as you have some steem power and the necessary RC, you can post as often as you wish. Each of your posts gets an unique URL that will stay on the net forever. You don't have to worry about hosting fees, domain name, database or the security of your data. The steem blockchain is taking care of it for you. All the posts that you write are stored safely on the steem blockchain and they are there forever, or at least as long as steem exists. The great thing is that the URL's on the steem blockchain are visible for anybody on the internet. It is not limited to the people having a steem account. Even if a post can't get any value anymore after 7 days, it will still be visible for everybody.
Posts on steem blockchain are visible for anybody on the internet
For affiliate marketers steem offers the possibility to jump directly to the first pages of google search
People often only see steem as a way to being paid for content and I think it's a pity because steem offers so much more. When you use good keywords in your titles and throughout your post, you profit from the great SEO of condensers like steemit.com.
When you write a blog on your own, you start with a very bad ranking on google and only through hard work you might bring your website up when people search for content. When you post on steem, you can directly profit from steemit.com Alexa's ranking which is around 5'500 in the world. A better ranking than many important newspapers for example. So if your keywords are well chosen you might rank very high on google with each of your articles. This will save you a lot of time and bring you much better results.
Affiliate marketers can profit from multiplied traffic with the steem ecosystem
When you write a post on any steem condenser like steemit, steempeak, busy, cpttalk or palnet you are actually writing your post on the steem blockchain and in return the condensers can read this post. What does that mean? It means that every post, according to the tags that you choose, will be visible on all the condensers of the steem ecosystem. So you write one post and it will be visible on around 10 websites !
Steem is a new way to interact with your followers
When you are into affiliate marketing, you want to build up your own brand, your own name. With steem your posts are always linked to your profile and so people don't only see a post title, they see the author as well. It's a prefect way to promote your brand. On steem you have the possibility to interact directly with your followers through the comment section. You can build your follower base while visiting other people's posts and commenting their content. You can reward others for their interaction with upvotes which don't cost you anything. Thanks to the tribes, you can target a specific group of people and interact with them.
Use your posts to promote your lead capture page
When you write your posts on steem, you should always be aware that most of your readers will not be coming from the steem economy. So they won't be able to write comments or follow you on steem. Therefore you should offer them another way to follow you. A good solution is to make them join your list. You can simply use a standard signature where you promote a free e-book, a free online course and you put a link to your lead capture page. So with every article, you grow your chances to bring people to your list. You can then send the links to your newest posts by e-mail to your list.
I can tell you as an affiliate marketer you will love steem !
---
My projects:
@help.venezuela
: a program that supports steem users from Venezuela.
HVOTE : A token that is underlined with a real steem account. With the sales of tokens, the Steem Power of the account is increased. The votes are sold on smartsteem and together with curation rewards, the account produces real economical value. Big token holders get upvotes from the account.