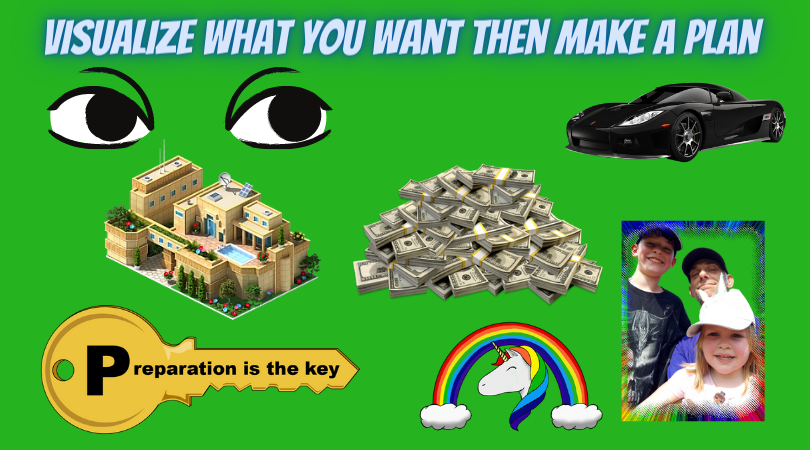 This image isn't my vision it is just a simple visual aid of what you could create for yourself.
If you want to visualize a future for yourself, you need to first dream about it.
Then you need to create something like a vision board, then work out a plan at how you will achieve it.
This vision board can be online or offine, it just needs to be somewhere you can see it often.
Keep in mind this is reality and not fiction so there is no point if you are a short adult wishing you was really a tall adult.
Your dreams can be as big as you like but it has to be in the realm of reality.
Maybe you want money, maybe you want fast cars, maybe you want a huge house.
It maybe you don't want any of these things and could be something completely different.
The point is you can always expand on your vision and it needs to be in the realm of reality with clear goals working back to the present place your currently in.
If you do not have this in place, how will you know what you need to do next to achieve it?
Planning nothing is planning to fail.
If you wanted to be a marathon runner and just tried to run a marathon, without any training, any practice, with no guidence i can tell you now you will more likely fail than succeed.
It is just facts, just because you see yourself winning doesn't mean it will happen, if you don't plan what you need to do or how you will win? It is just not going to happen.
It is just as important to plan how you will get to the vision you have dreamed up for yourself as it is to have the vision in the first place but it is a good start.
That's it for today go dream and visualize.