Hello everyone,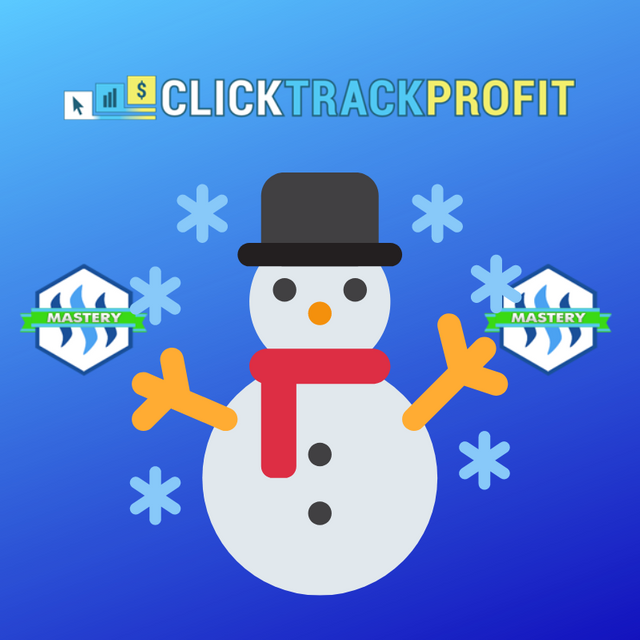 Waking up to a little bit of snow on the ground this morning and it is -0.1C out side. HUMMMM and no winter tires on yet! I do this every year. Always an adventure, as it may be sunny and +10 for the next 2 weeks. Anyway. I saw the snow this morning and thought I would add a pretty little snow man (person) to my graphic.
Could I write on and on and bring meaning to why I used it in my graphic this morning? Sure I could! I could make each level, the scarf, the hat, the arms all represent something in affiliate marketing or business but I am not going to this morning! Use your imagination! Or just enjoy the pretty pic.
I am now just under 25 CTP tokens needed to hit the 10K mark! WOW WOW WOW.
So tomorrow morning when I write my post (if I do not do it today) I should be talking about Whales!
#Steem: $0.145323 USD (-2.82%) 0.00001564 BTC (-1.69%)
#Bitcoin: $9,292.09 USD (-1.15%)
#CTP token: 24h Vol: 3 STEEM / $0.43 Bid: 0.01118004 STEEM Ask: 0.0227951 STEEM
@PixiePost congrats on your shout out on (https://ctptalk.com/dtube/@jongolson/923sjajjo3i)
Join me on CTP (https://clicktrackprofit.com/bradleysfi)
Join me on HitConnect (https://hitsconnect.com/?rid=47660)
Bradley