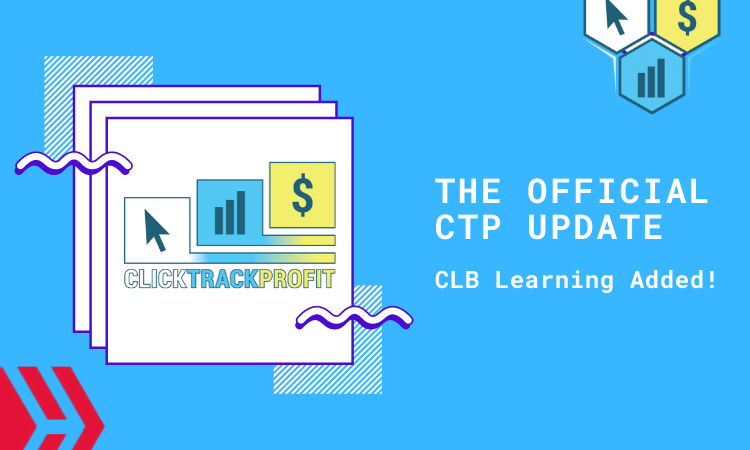 Before we dive into the good stuff, let's just go over why you may not have heard from us officially in a few weeks...
@jongolson has moved about 6000 kilometres from his previous residence to as far east as you can get on the North American continent. And with that, has been suffering from a lack of 21st century internet speeds.
We attempted a live stream last night, and let's just say the audio was clear....But the video wasn't!
I'll be getting 'better' internet hopefully in a few days and then '2020 speeds' within the next few weeks too.
Apologies for missing all the cool things happening on HIVE and CTP Talk, but I'm back and ready to crush it for the summer!
CLB Learning Added To Mastery
Huge news to start you off with! We've just recently added a brand new Mastery program within ClickTrackProfit - CLB Learning!

Contact List Building Learning is a training program from @janetlegere - A long time internet marketer and member of the CTP community!
She's been a mainstay in internet marketing circles for years and we're honored to have her become a part of the Mastery family inside of CTP!

She's got tons of cool tasks for members to complete and work towards so be sure to log into ClickTrackProfit today, and check out all the amazing features of CLB Learning!
Feel The Burn!
We touched on this a few weeks ago, but wanted to remind everyone that ALL purchases made to ClickTrackProfit, ListNerds & Plus1Success using Fire-Pay and CTP Token will be burned!
We have taken a relaxed attitude towards burning tokens, just because we always had low liquidity and circulation. However we think it's time to add even more value to the CTP Token and it's holders.
So we will burn all purchases made with CTP Tokens on our websites.
We'll also burn a heavy amount of the curation rewards we receive as well.
Thank you for making CTP Token such an amazing project and token here in the HIVE eco-system. We've got even more things planned for the Swarm...Stay tuned!
Curate, Create and Mine!
What an amazing platform we have here on HIVE and CTP Talk....You get 'paid' for creating content. You get 'paid' for curating content too....And we think that is awesome!
However 'mining' CTP Tokens is the sneaky little secret that many savvy CTP Swarm members have been leveraging for months now...
Its the perfect companion for your creation and curating endeavors and we think, you'll agree....Mining is a no brainer!
=> Be sure to secure and stake your CTP Mining tokens today!