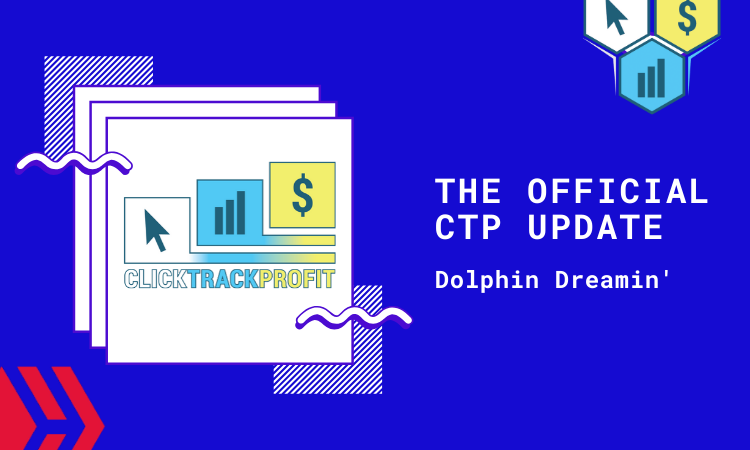 A huge mission for ClickTrackProfit has been to introduce people to the blockchain...
In the year since we've been relaunched, we've seen amazing people get involved here and start their content creation journey.
They started as complete blank slates to grow into very powerful community leaders.
There are so many benefits to building here and growing each and every day from...Showing up! Taking action! And supporting each other.
A few weeks ago we had a vision...
We wanted to empower the CTP community grow not only on CTPtalk.com but also on the HIVE blockchain.
Look, we can't wait for the white knight to show up, give us massive upvotes each and reach our goals...We have to build it ourselves.
That's where 'Dolphin Dreamin' comes in :)
Our focus will remain two fold....
Continue to educate and onboard users to HIVE. We've got dozens of educational videos that help with that. We want to work with you, every day...To learn all about the blockchain and it's potential.



And more than ever...We want to see you hit 'Dolphin' status here on HIVE!
What exactly does that mean?
Using #MyHIVEgoals as a template and the 5-500-5000 formula that focuses on daily engagement with others, we want to help you hit at LEAST 5000 Hive Power by the end of the year.
Yes, it starts with YOU and your dedication to showing up, creating, curating, invest and engagement daily...But as a community, I think we can do so much more!
We pledge to you, to upvote all your content on CTPtalk.com - Right now we're doing about 20% upvotes and we will continue to power up the main CTP account. But no matter what, we will upvote you and your efforts!
We continue to support @thisisawesome - A project spearheaded by @flaxz which has done so much! He has supported CTP since day one, and we continue to delegate to his project and will increase our support as well going forward.

Be there for you, every step of the way. From the CTP Swarm to our weekly webinars, we want you to know, you are not alone on this journey. We're here to help you reach your goals.

Some 'secret stuff' we're working on too, that will help your account grow on both CTP and HIVE!
As a community, together we can grow!
The 'Dolphin Dreamin'' initiative doesn't have an end goal but we do want to see as many CTP members as possible, reach Dolphin status by the end of the year.
A powered up community is what HIVE needs. People supporting each other, growing together and adopting this amazing blockchain.
Are you ready to claim your Dolphin status?
Let's get there together!
Task: Write down your Hive Power and were you are...Today! And let's see how we can each get to 5000 Hive Power by the end of the year....
Comment below and let's work together and come up with some strategies to grow your account!
---
Want to learn how to build your online business using the blockchain?
=> Join the CTP Community today!