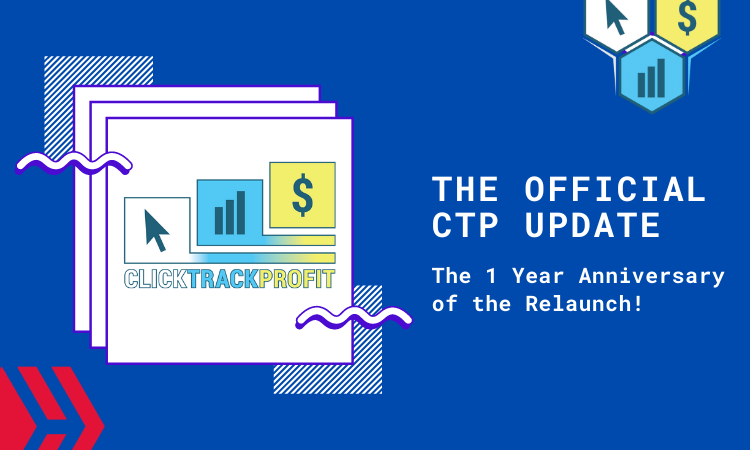 The history of ClickTrackProfit has been quite the adventure....
It's seen plenty of highs and lows. And without beating a dead horse, 3 years ago came a fork in the road...If we continued on the path it was headed, CTP would have ceased to exist.
We had to make some big decisions to make.
New partners were brought in and a new focus was put in front of the platform.
We rebuilt everything, created a new script to run the site, redesigned it, added brand new lessons and training, switched the focus of the platform and relaunched ClickTrackProfit...Exactly one year ago today!
And what a year it's been....
Here's some crazy highlights and numbers from the past 12 months...
16 Modules covering everything from social media to email marketing and everything in between!

129 step by step affiliate marketing lessons

8 Mastery Courses

The creation of 'Website Walkthroughs featuring ListNerds.com'

The addition of the Start Earning Today funnel

Huge emphasis on the blockchain focusing on HIVE

Our blogging platform and front end condenser - CTPTalk.com

2 weekly webinars each and every week

Email marketing lessons featuring Traffic Wave

Big emphasis on community engagement through social media, list building, the blockchain and Telegram / Discord

The Top Sites voting and badges!

The LCP Builder, Gauntlet & Unicorn's Oasis features!

Adding over 5000 new members to the community!

The development of the Fire-Pay payment script

Thousands in commissions paid!

And so much more.....
Let's just say....It's been an awesome 365 days!
We launched a bunch of programs over the past year too...
And we're just getting started :)
A special thanks to every single member who has supported this relaunch...I know there were and still is a lot of hatred towards CTP and the hurdles we climbed over cannot erase the issues that CTP had in the past. So we're so thankful for your business and trust!
It's been an amazing experience and @blainjones and I couldn't be more excited for the future of ClickTrackProfit and it's remarkable community.
You are what makes this place so special!
And combined with the exciting potential of CTP Talk / HIVE, the future is very bright!
We'll be doing a big event to help celebrate the anniversary tonight inside of our 'Crypto Mondays' webinar on @vimm and around the 'interwebs'...Be sure to tune in tonight at 8pm eastern or watch the replay when it's posted :)
We think you are really going to enjoy what we have planned....