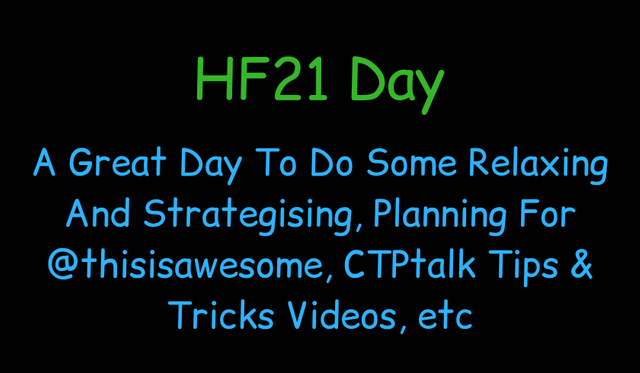 It's really nice weather outside, and the HF21 day is here, so since there is no telling how long it will take to implement and how long the blockchain will be down, I thought it prudent to make some relaxing and strategising today.
Posting
I will make this post and my Actifit report today, but no other posts or videos, either on my own account or my project @thisisawesome.
If all goes well I will be back to posting as normal tommorrow.
So as I just said, since there is no telling how long the blockchain will be down there is no Awesome Daily report today.
During the implementaion of HF21 all autovoting through @steemauto will also be paused, and once it's all up again it will be turned on and adjusted to the new 5 minute voting window.
After that we are back to normal, no other changes are imminent, though I will keep an eye on the result of this hardfork and adjust if needed.
CTPtalk Tips & Tricks Videos
I am not making a video for this series today, I do have one planned, but that will be done tommorrow, given that it's all up again.
I have also started to write on an ebook for this series, though I am yet to know how long it will take to finish it.
The ebook will be free at signup to an email series that will also tie into my videos, and it will also feature free rebranding of all affiliate links, plus unlimited givaway rights.
ETA of this will be updated as I am progressing, and I hope you will like it.
Other Things
So I will also take this opportunity to make some general look over on things, make some planning and adjust if there is some need for that.
Plus just some relaxing and enjoying the great weather.
Stay Awesome!
Sincerely,
Erik Gustafsson
Posted using Partiko Android