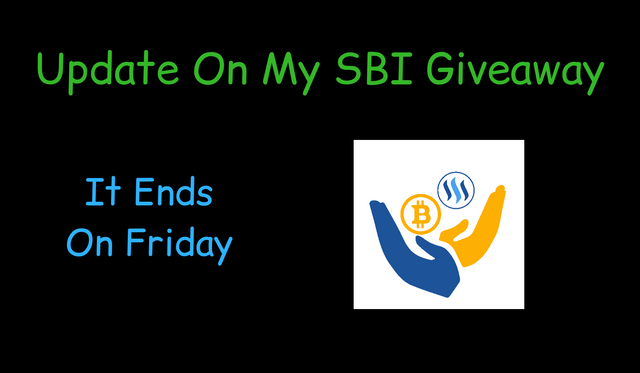 Made in Canva
My SBI Giveaway
So I have had this SBI Unit (@steembasicincome) giveaway going for quite some time now, and you can see the details in the footer of this post.
I have now decided to end it, and it will run until Friday December 6, 2019, and just to note it's only the SBI giveaway that will end, not the email lists and ebooks.
Why End It?
So there are 2 major reasons for ending this giveaway.
1. It Needs To Be Limited To Be Effective
So what I have learned having this giveaway is that for it to be effective it also needs to be limited.
When I launched it I limited it at 10 SBI Units, and later expanded that to 20 SBI Units, and then again to unlimited, and as long as I had a limit on it I had lot's of signups taking this offer, but when it became unlimited there was no rush at all.
Therefore any future incentives that I might make for signing up to my lists will all be limited, if it's called for the limit might be increased, but I will always have a limit.
2. The Current Attack On SBI
So the second reason is the current and ongoing attack on SBI, this makes it less attractive to get SBI Units, and it might also open up for a more targeted attack on this campaign.
This attack also had it's first victim, Upvotebuilders Is Closing Down.
Therefore it's not in my best interest or in any subscribers best interest to have SBI Units as a reward, and I will look into other kinds of rewards on future giveaways too if this attack is kept up.
It Ends On Friday
So as I said this SBI Unit giveaway ends on Friday December 6, 2019, and if you want to get any SBI Units from this giveaway then you need to sign up and claim them before it ends.
Thank You!
Thank you very much for reading this post, and I hope you found it informative, and ...
Stay Awesome!
Sincerely,
Erik Gustafsson
@flaxz
https://www.ctptalk.com/@flaxz
Do your own research before investing.
---
Join me on Discord: https://discord.gg/F6cCZ2N
Join me on ClickTrackProfit: https://clicktrackprofit.com/flaxz
Guide: How To Create - Your Own Sales Funnel
---
Sign up for free to my email lists and ebooks, and get 1 SBI Unit for each confirmed subscription, click the banners below. (Note: This offer ends on Friday December 6, 2019.)