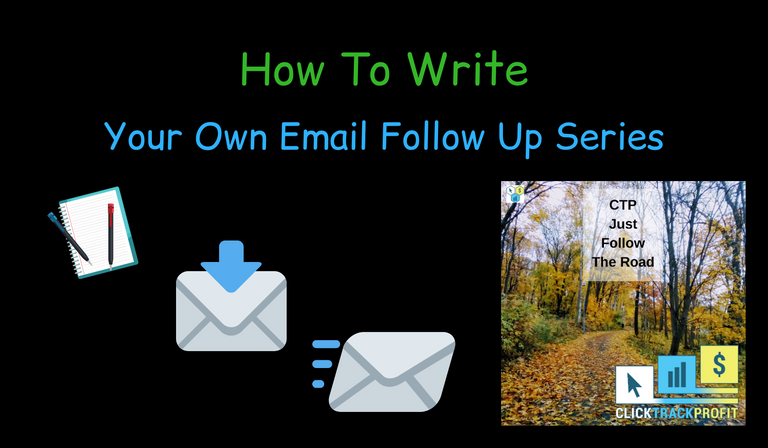 Made in Canva
It's Thursday and nice weather outside.
How To Write - Your Own Email Follow Up Series
So this post will tie back a bit to the video I made on Friday last week called, CTPtalk For Steemians #8 - What Is An Email Follow Up Series?, and I will go into a bit more detail on how to actually write your own email follow up series.
It's also to be seen as a continuation of the post I made a week ago, How To Write - Your Very Own Lead Magnet?
1. What Is Your Goal?
The first thing you need to know before starting to write it is to determine the goal, so let's ask some questions.
What problem will it solve for your subscribers?
Does it include a Lead Magnet, like an ebook or video, etc?
Is it tied to a video series?
So all of these factors will determine what your emails are supposed to accomplish, and what the goal is that you need to focus on.
You always need to have a problem to solve for your subscribers, and when you write your emails do use the formula that is part of ClickTrackProfit, where you introduce yourself in the first email, and then use the 3 next emails to tell the story of the problem, and then give your solution in email 5, this is the standard setup and it can also have some variations.
2. Lead Magnet
One of those variations is if you have a Lead Magnet, like an ebook or a video, as the main product that people want for signing up to your list, and in most cases that means you already have the story of the problem and the main solution in that Lead Magnet, and the emails are then there to complement that rather than provide the main solution.
In that case you still use the standard setup and adjust it a bit, the first email is for introducing yourself and for delivering your Lead Magnet, the next 3 emails are there to give complementary value to the information you shared in the Lead Magnet, and email 5 is there to offer a complementary solution to the main solution that was provided in the Lead Magnet.
This is exactly what I did with my own list for my ebook, Build Your List For Free, the first email delivered the ebook and I introduced myself, plus I also included intructions for how to best obtain the SBI Unit bonus that I give out for subscribing.
The next 3 emails talked about how to brand yourself, by making a blog on CTPtalk, boosting your engagement on that blog, and making videos on DTube to increase that branding, and email 5 talked about setting a long term goal of upgrading from the free ad based autoresponder that was part of the ebook solution, to the professional paid autoresponder TrafficWave, which is recommended in CTP.
So this email follow up series then complements the Lead Magnet, it gives additional value, and it also provides a complementary solution for building an email list using a professional service, that's the final pitch, and it does that pitch by suggesting that it should be a goal.
3. Video Series
Now comes the video series, and this is yet another kind of email follow up series, the emails will be quite short and they will link to the videos in the video series, so the most important thing here is to make a great video series and tell the story and your solutions over the course of those videos.
This is also what I made in my email and video series, Profit With CTPtalk, over the course I made videos that bit by bit showed the viewers how to make videos on DTube and CTPtalk, and then use those videos to make their own email and video series, and it's delivered over 10 emails and videos and made to get the subscribers to start very easily by taking it step by step.
So these emails are there to link to the videos, and to give links to the tools used in the videos, and in this case the goal was to get people started making their own videos and use them to build their own list.
4. Research And Structure Your Emails
Now that you know what kind of list you are going to make, and what the goal is, it's time to make reasearch on your subject, get all the info together that you need for your list, and yeah you need to do this even if you know the subject.
So once you have gathered all the info you need, think about the storyline of your emails, and how you want this story to develop up to the solution that you provide in email 5, and then create the headlines or subject lines for your emails, and use your preferred office application for this.
You should also include a small part that identifies your list to your subscribers in the subject line, and that's included in all the emails, so that they know that this is your emails and make it more likely that they read them.
Other than that it's basically just as making a headline for your blog, it should get attention and be descriptive of the content in the email, and for the first email it's also good to include a Welcome!
Then make notes for each email with the main points and what the goal is of each one, and if they include any tools or services.
5. Write Your Emails
Now it's finally time to write the content of your emails, use the info and the points and goals and the story you have for your email follow up series to write each email, and make sure to use the spellchecking in the application you write in.
In the first email you introduce yourself and welcome them to your list, and you also include links to any Lead Magnet you might have and maybe some more signup bonuses, plus you write a small part at the end that talks about what your next email will be about, that builds up their anticipation for it and makes it more likely that they will read it, and you do that part in each consecutive email after that.
In the following emails you tell the story of the problem, or the complementary information, and build it up to your solution in email 5, and in the last email you should also include a notification that you might contact them again with additional information and updates that you think could be of benefit to them, thereby preparing them to expect more emails ahead.
6. Upload Your Emails To Your Autoresponder
Once you are all finished writing your emails it's time to upload them to your autoresonder, and it's as easy as just copy and paste the subject lines and the email content for each email in the series, and do make sure to get them with the right timer, so that there is one email delivered each day for 5 days.
If you are using TrafficWave then just use the instruction videos in ClickTrackProfit to get the hang of how to do this, and if you are in need of an autoresponder do note that I am part of the CTP teambuild in TW, plus also in the TW Matrix Buster, and what that means is that if you sign up with my affiliate link you will get a lot of spillover referrals, and you can get it at no charge for up to 60 days.
This is my own personal opinion, do your own research before investing, and seek legal counsel if uncertain.
Now you have your own email follow up series all written and setup in your autoresponder, congratulations.
Thank You!
Thank you very much for reading this post, and I very much hope that you will have good use of it, and in my next post that I will hopefully post on Saturday I will talk about how to setup your salesfunnel, so that you can get signups to your email list, until then ...
Stay Awesome!
Sincerely,
Erik Gustafsson
@flaxz
---
Join me on Discord: https://discord.gg/F6cCZ2N
---
Sign up for free to my email lists and ebooks, and get 1 SBI Unit for each confirmed subscription.