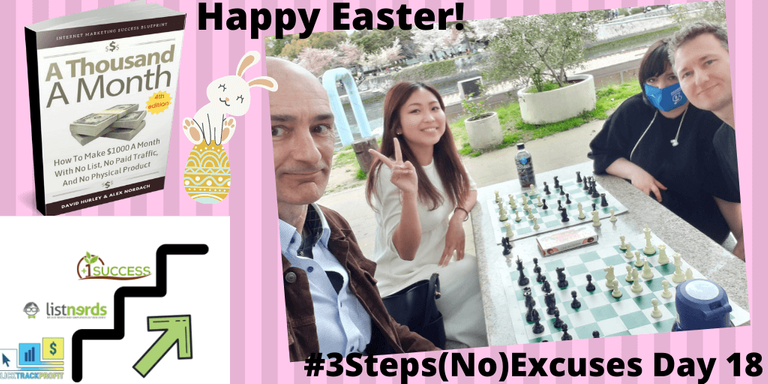 Happy Easter, everybody! Well, it was Easter when I was supposed to be doing Day 18! And the message for this day was to "be evergreen" and to "be visible" but I was the opposite!
I went into "invisible mode" on the Internet and rejected the "evergreen" for the evanascent delights of cherry and peach blossom.
Cherry Blossom, Chess, and Other Distractions
You can see the cherry blossom on the trees on the opposite bank of the Motoyasu River just down stream from the Atomic Bomb Dome in the middle of Hiroshima where I set up a couple of chess boards and hosted an outdoor chess party.
The "peach blossom" happens to be sitting beside me! (Her name can mean "peach flower" or "peach fragrance" in Japanese, depending on the Chinese characters that were chosen), so is it any wonder that I forgot about my online business for a while? ;)
Though cherry blossoms
Disport themselves I prefer
This one peach flower.
But I digress...
The chess party was an international affair with players from Japan, Russia, Canada, the USA, and yours truly from the UK.
Chess is relatively unusual in Japan - the local variant, "shogi" is much more popular, as is "igo" (go), so quite a few passers-by paused to watch, comment, or even take photos!
In the evening we took our chess gear into a nearby bar and were joined by some more players... and where I drank rather too much of their home-brewed beers... After that I seem to recall Miss Russia and I heading off to another joint and setting up the bar owner's chess set on the bar and teaching a Japanese guy to play. Actually, he relied on a Japanese chess training website on his phone, and played a good game for a beginner. I guess he knew how to play shogi.
Consequently, I had rather a quiet and delicate Easter in recovery mode and did not get around to reporting on Day 18...
I guess I need to claim another "excuse Mulligan" while I once again attempt to catch up with all the #3StepsNoExcuses hares who've already completed Day 21!
Step 1 CTP: Be Evergreen
A few years ago I started a blog called https://top5programs.com which is all about working with FIVE "evergreen" programs that have stood the test of time.
Actually, it took quite a while for me to be able to get a stable list of five programs, but I'm pretty confident that I now have a set of evergreen programs, which are:
ClickTrackProfit - Internet and crypto business training

LeadsLeap - autoresponder and online advertising

Wealthy Affiliate - High quality Wordpress website hosting and online business training

Prosperity Marketing System - A tried and tested "funded proposal" program

SFI - Difficult to summarize what it offers in a few words, but I've been a member since 2007, so it's pretty evergreen, I'd say! In fact, I treat is as a standalone business which generates some extra income for me every single month.
The first four programs all offer services that Internet marketers always need, hence the term "evergreen" - they are services that stay fresh year in and year out, and can be a very good source of residual income for affiliate marketers.
Step 2: ListNerds: Develop Evergreen HABITS!
Not only tools, but our business habits can be evergreen too! Regularly using the best safelists or mailers to send out emails and grow your own list is a very useful "evergreen" habit to cultivate.
Since the #3StepsNoExcuses challenge began I have been much more consistent in sending out an email on Listnerds every five days, as my upgrade level permits. Before, I'd let it go for weeks before "getting around to" sending out an email on Listnerds.
One evergreen tool that I recommend to help you stay on top of your safelist email campaigns is ViralMailProfits which is now owned by Marty Petrizza.
Step 3 Plus1Success: Be Visible
I must admit I often struggle with this one. "Be visible" is all about building your presence on the Internet through blogging, video creation, email marketing, and especially social media.
In my case, I find that I am sometimes more focused on content creation and less on content distribution, especially on social media.
So today, as soon as this post is published, I'm going to hop over to RealSpecific.com and distribute it to my Twitter account and Facebook pages, and then promote it on Noise.Cash and Webtalk.
Here goes!
All the best,
David Hurley
#InspiredFocus