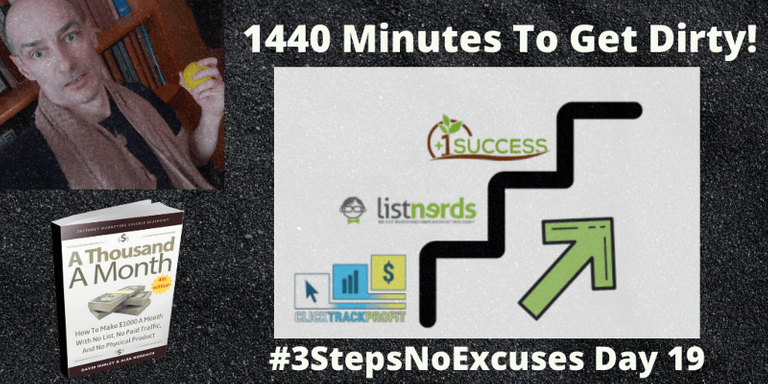 Today's message in a nutshell is this:
We have 1,440 minutes in a day (Plus1Success) in which to get dirty (CTP)!
Sounds like fun, but what does it mean? Let's check out each step in turn...
Step 1 CTP: Get Dirty!
The message in today's video is really to roll up your sleeves and get actively engaging with your network, and reach out to others to extend your network.
In short, "get dirty" = "get involved with people" - don't stand aloof, or try to "make money" while remaining anonymous and disengaged.
One way to get engaged with others is to reply to their social media posts. Another way is to make a point of commenting on other people's blog posts on CTPTalk.
Honestly, I am sometimes disappointed at the amount of ZERO comment posts I have on CTPTalk! But then I have to ask myself...
"How many people's posts have I commented on today?"
Upvoting is easy enough. You just hit the up arrow. Heck, you don't even have to read someone's post to upvote it. But COMMENTING in any meaningful way means you have to spend some TIME (1440 minutes) reading their blog post or watching their video...
I do read quite a few posts and respond with comments here and there, but I decided to comment on at least FIVE CTPTalk posts today, especially on posts by people who I haven't responded to before, people who post some content RELATED TO CTPTalk and who have only earned single digit amounts of CTP Tokens...
So far today I've posted a comment on posts by @lisamgentile1961 and @elianaicgomes whose posts I have commented on several times before.
As for reaching out to new people, I started following, and posted a comment on a post by @psimpson67 and subscribed to his YouTube channel @ https://www.youtube.com/channel/UCRJHPUzl5cqZlGAhqnCRUfA
Next, I started following and commented on a post by @edgerik who completed the Scavenger Hunt.
Then Rob Willman's latest post on his new initiative, @threesteps popped up so I checked it out and posted a comment.
Finally, I had to search CTPTalk using the #clicktrackprofit tag to find another suitable post to upvote and comment on, and it was one reporting on the #3StepsNoExcuses challenge by @jimmy.adames who I am now following on CTPTalk and Twitter:
Step 2 Listnerds: Follow the experts!
This tip is all about subscribing to the email newsletters of Internet marketing experts and to study the content of their email letters. Do they pitch from the get-go or do they take the time to offer value and build trust first?
I did a search for top marketing newsletters, and one that I decided to opt in to was by Neil Patel. I've seen his blogging tips and so I know he is an expert in this field.
Also, to subscribe to his list you first have to fill in a short questionairre just as Ryan Levesque describes in the book, "Ask," which I'm reading as part of this #3StepsNoExcuses challenge.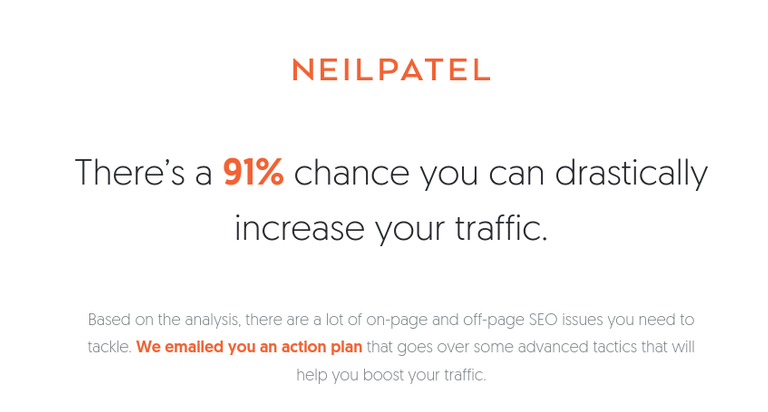 So let's see what comes out on the other side of the questionnaire - will I really get some useful feedback explicitly tailored to improving MY specific blog and increasing my traffic? Or will it be generic advice disguised as personalized feedback?!
Meanwhile, I will keep on looking for some other marketing expert lists to subscribe to...
Step 3 Plus1Success: 1440 Minutes In A Day
The advice here is to "get up 30 minutes earlier" during the work week and dedicate the extra two and a half hours to building your business or working on whatever project it is that you "haven't had time" to work on...
Well, with college term looming, I will be getting up earlier several days a week. One project that I trust I will revive is getting up earlier in the morning to do my "7 minute workout" before heading out to teach. (For some reason I find it easier to get up earlier and workout on days when I start teaching at 9am than on days when I have no classes scheduled!)
Okay, that's all for now - I seem to have used up a large proportion of my 1440 minutes working on today's 3Steps and getting this blog written!
All the best,
David Hurley
#InspiredFocus