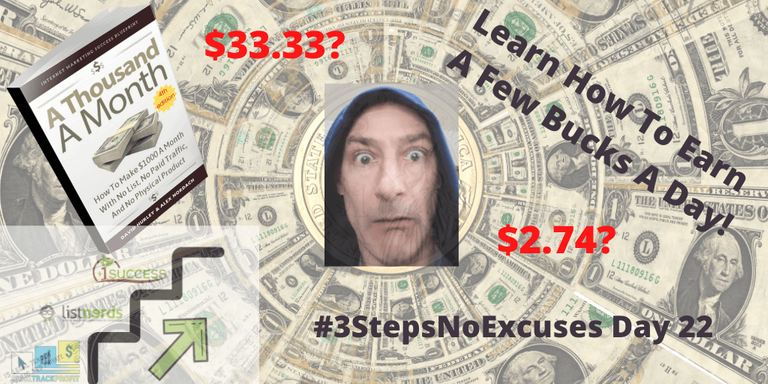 Today was my first day back at college for the spring term in Hiroshima. I was pleased to see that all three of my classes were well populated with some of the good-time girls from last year's classes. They obviously can't get enough of ole Hurley-sensei - or Haari-sensei as my name becomes in Japanese.
Irrelevant nugget #1: Say my name in Japanese and what you get is Haari-David-san which is exactly how you say "Harley Davidson" in Japanese.
Irrelevant nugget #2: That's crazy because I don't have a motorbike licence and the biggest bike-with-an-engine that I've ever owned was a ghastly French moped called a Mobylette!
But I digress, and I'm determined to get Day 22 of the #3StepsNoExcuses challenge done and dusted before I go to bed tonight...
So, without further ado...
Step 1 CTP: $2.74 Method
I love this concept. If you want to get ahead of about 95% of people "trying" to "make money" on the Internet, all you have to do is make a profit of $2.74 per day. Actually, your profit could probably be as low as $0.01 per day and you'd still be ahead of around 90% of the "make money online" crowd...
But the thing about $2.74 per day is that it gives you an annual profit of $1000. Not too bad at all!
Keep plugging away creating and curating content on the Hive blockchain and you'll soon find yourself making $2.74 a day from that alone.
Make $33.33 a day your next target!
It's a great lesson, and it could almost be a kind of preface to the book I co-authored, A Thousand a Month (available on Amazon or through our blog at https://thousandamonth.com ), because the premise of our book is similar, but the profit target is a bit higher, at a still very reasonable $33.33 per diem, especially when you follow the steps we lay out in the book.
$33.33 x 30 days = $1,000 per month.
Step 2 Listnerds: A Funnel Is A Perfect Tool
The point of this step is to think about what you are promoting on viral mailers such as Listnerds. If you are simply promoting the sales page or sign-up page for a network marketing program then you are selling yourself short.
Actually, you are wasting your time and resources.
It is much more effective to create a unique offer of your own and present it as a freebie on a landing page that is unique to you and brands you.
Your landing page should include an opt-in form so that your visitors can join your list and receive your freebie (typically a digital product such as an e-book, or a video or audio presentation) and your follow-up email letters.
Recommended Services
I use and highly recommend Leadsleap for my autoresponder, email campaigns and landing pages.
If you are not ready to invest in an autoresponder service, then I suggest that you use a a free funnel such as Start Earning Today, which you can set up for free within your ClickTrackProfit dashboard.
Step 3 Plus1Success: Capture Ideas
I'm not too bad at capturing ideas... I could do better at remembering where I wrote specific ideas down - or even that I had the idea and wrote it down at all!
That aside, I have two notebooks, a daily task notebook and a smaller notebook that I carry with me when I'm out and about: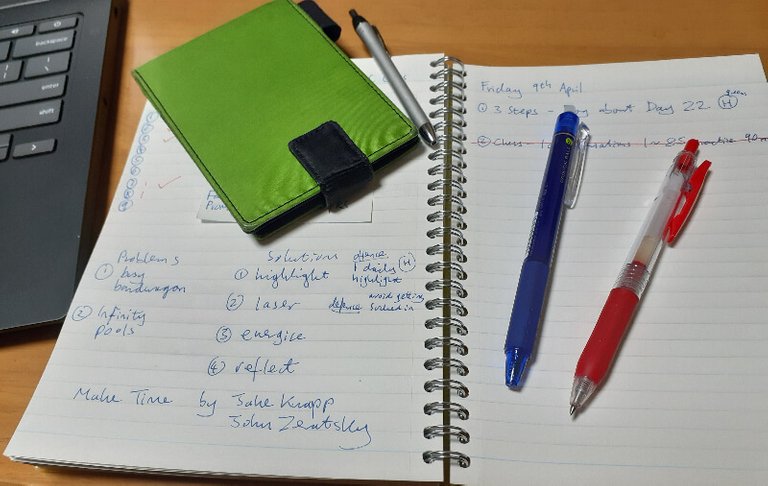 When I'm at home, I jot down ideas, references, notes and quotations in the daily task notebook. Actually, that is exactly what I was doing over breakfast this morning as I watched a guy on YouTube called Ali Abdaal review "Make Time," a book by two ex-Google dudes called Jake Knapp and John Zeratsky.
Okay, here's the video. Well worth a watch, if you struggle to make time for what's important...
Cheers!
David Hurley
#InspiredFocus