For me, the main lesson of Day 23 is about how to escape from the "Vortex of Doom," a negative cycle that pulls a lot of would-be affiliate marketers into a downward spiral of failure. I have my own take on how to escape from the vortex based on the idea of establishing a fixed set of "top 5" programs to work with...
Step 1 CTP: The Vortex of Doom
The "Vortx of Doom" is a vicious cycle that is all too common in the affiliate marketing industry. A shiny new "program" is launched and people jump on board expecting to "make money" without putting in much effort or commitment.
When the money fails to flow, disappointment quickly sets in. People quit, and then blame the program and call the program owner a scammer.
Of course, sometimes they are right! However, I've seen people fail, quit and play the blame game with perfectly legitimate programs.
Then, another shiny new program is launched, and guess what... Lots of the same people who quit the previous one jump on board the new one, and the same negative cycle starts all over again...
That's how you get sucked - or suckered - into the vortex of doom!
Even if you don't go in for the "blame game," if you're like me you've probably jumped through a bundle of programs over the years. I don't know how many programs I've "tried" that are no longer around!
A few years ago I got fed up of jumping from program to program and having multiple programs that I was trying to promote that I decided to do something different. I decided to limit myself to just FIVE programs that were legitimate, offered good value products or services, and had stood the test of time.
That's how one of my blogs, https://top5programs.com came to be.

By focusing on just five good quality programs I forced myself to make some tough choices about what I was and was not going to promote. And I have to admit that the list of "Top 5 Programs" has changed several times over in the last five years...
Also, I sometimes "lost the plot" and added programs that really shouldn't have been on the list, but gradually I was able to build a stable list of programs that have remained unchanged for quite a while now.
My "Top 5 Programs" are:
Wealthy Affiliate
SFI
LeadsLeap
Prosperity Marketing System
Click Track Profit
Click Track Profit was the final piece of the puzzle, and the training provided really will help us avoid falling back into the Vortex of Doom!
Step 2 Listnerds: Have You Created a Lead Magnet?
The simple answer to the question in this step is, "Yes, I have!"
My latest lead magnet is my Beginners' Crypto Course. If you review sites on the Gauntlet inside Click Track Profit you may have seen and rated the landing page. If not, here it is: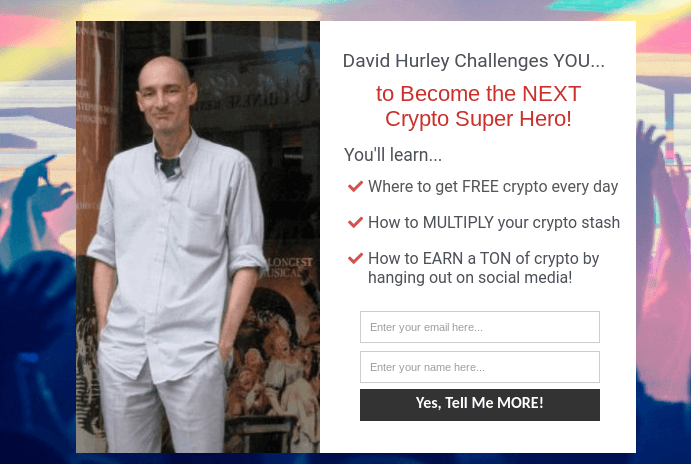 Step 3 Plus1Success: Setting SMART Goals
These are goals that are "Specific, Measurable, Attainable, Relevant, and Timely."
I have set myself a few such goals. For example, one goal I aim to achieve by the end of 2021 is to have accumulate a total of 60,000 CTP Tokens. It's actually a two year goal, and I'm almost half way there...
What SMART goals have you set for 2021?
All the best,
David Hurley
#InspiredFocus