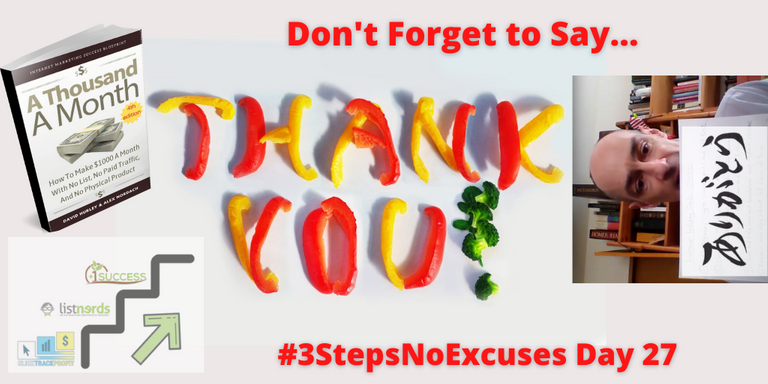 The first two steps were pretty straightforward for me today, but I had to work on the third one, "thanking someone," as I realized I'd neglected to thank a young friend of mine...
Step 1 CTP: The Whys and Hows of CTPTalk
If you're new here you may not know that CTP Talk is a blogging platform where you can earn CTP Tokens for publishing your own content and curating other CTPTalk members' content.
It's also a good place to network with likeminded people, but the big WHY that drives the platform is that it enables "the marriage of affiliate marketing and the blockchain" through a blogging platform. Cool!
Step 2 Listnerds: Don't Stop Mailing!
This lesson is all about "conquering by continuing." Just because nothing happened after you send out your first email doesn't mean you should give up! Tweak it and send it again... And again...
Check the metrics and make adjustments. Vary the message. Try different angles. Keep mailing. Don't be like most people. Don't give up.
Well, I've been using both autoresponders and viral mailers for well over a decade now, and although I have not been as consistent as I could have been, I have not given up, and I do send stuff out repeatedly.
Doing #3StepsNoExcuses has helped me be more regular and consistent to some extent, especially with my Listnerd mailings, and with broadcasts to my own mailing lists.
Step 3 Plus1Success: Thank Someone
Who do I need thank?
I could thank Jon and Blain for CTP, CTP Talk, the #3StepsNoExcuses and all the other value that I get from the community they've created.
I could thank all the active participants in the #3StepsNoExcuses challenge whose examples have kept me going, Eliana, Lisa, Rob, among others.
And many more.
HOWEVER, I was also aware that there was someone in my circle of friends here in Hiroshima who I ought to thank, and that is my young friend Shaun.
A couple of weekends ago I hosted a social chess party. We played chess by one of the rivers in the centre of Hiroshima. Later on some of us went to a bar and Shaun joined us. He left a bit earlier than the rest of us, and when we went to pay the bill it turned out that he had paid for everybody...
That was a nice surprise! And I felt happy about it, but I had not got around to thanking him for it, and it kinda seemed a bit late now... BUT faced with today's "Plus1" task, I realized that I ought to get rid of any weird "justification for not bothering to say thank you" and send him a message: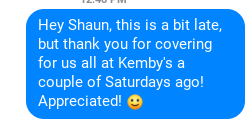 Shaun is the guy in the pink t-shirt in this photo. Completely bonkers, but a jolly good egg: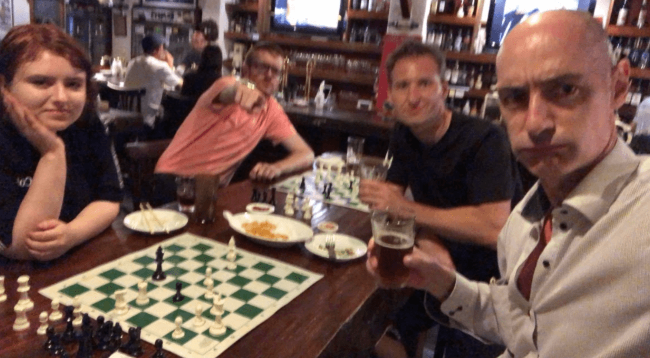 Cheers!
David Hurley
#InspiredFocus