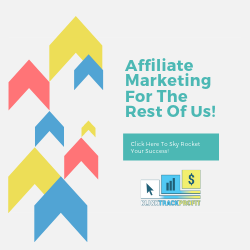 When I joined the ctp tribe it took me a little while to figure out what they were really about. Sure they were friendly and the most generous people I had met on hive at that point. But what is the vision behind all these "I am alive challenge" posts and "Luke is alive challenge" posts. What is this affiliate marketing thing they try to do? What problem do they try to solve?
Affiliate marketing
Let's start at the beginning. What is affiliate marketing. It is marketing someone else's product by affiliation in return for a small share of the profit.
Almost all crypto projects use this by giving you a referral code, that when you share it with others they give you more of their coins. They do this, because it is highly effective.
Sure most of these projects do some advertising too, but referrals are almost for free and they generate a much better conversion to sales.
Clicktrackprofit
Behind the CTP tribe is a business led by @jongolson and @blainjones called clicktrackprofit. This is a training website for affiliate marketers. People who have a desire to be their own boss, make money with an online business, from home, by becoming an affiliate marketeer.
The clicktrackprofit.com website is full of information that helps you to become a successful affiliate marketeer if you are willing to put in the work. There are an extraordinary amount of great training videos and tools available to help you start your business.
While setting yourself up to be an affiliate marketeer by using the free tools from clicktrackprofit, you sign up for several affiliate marketing tools like an email-autoresponder and other tools. Which if you become successful, will give them a small share of the sales you generate.
This why they love to help you become successful, why they have a training platform and why they love to help you. It helps them too.
What problem do they solve?
A successful affiliate marketeer needs a whole host of tools to be effective and earn enough to be able to earn a living. These tools easily cost $20 per month for the basic package. The problem is that the most motivated group of people that want to earn a bit more money, usually don't have much money to invest.
Now most of these programs have a free trial period of one month, or a free to use package with very limited capabilities, but that is not enough to reliably earn an income.
So, somehow money needs to be generated to be able to pay for these tools, in order that the business takes off allowing the affiliate marketeer to start doing this full-time.
Combine this with the fact that an affiliate marketeer needs to build his own brand, attract followers, build trust with potential referrals, which is a reason why they are usually very active on social media and you start to see why they love the Hive blockchain.
Not only can you build relationships with people, by blogging you can build your brand, gain trust, but also you earn hive and ctp tokens in the process.
CTP tokens
The ctp token is also a very crucial part in the ultimate game plan for clicktrackprofit. They made contact with 50+ affiliate marketing platforms/tools/websites where you can pay with ctp tokens for the upgraded packages.
The vision
The happy flow for a new affiliate marketeer is to start earning on hive, while building their brand by blogging and engaging. In the meantime they also work their way through the training on clicktrackprofit, which has a really nice gamification experience. You earn points, you earn badges, you see your progress, you earn prize wheel spins and you engage with other affiliate marketeers that help you learn the trade.
Until you've earned enough hive/ctp to set yourself up to with some good tools and the free to use startearning.today funnel so that you start generating a serious income with your new hive-based online business.
Obviously, the CTP tribe, or swarm as it is called lately would love to get more people on hive involved. But the biggest target market is outside the hive universe.
There are millions of people around the world who would love to start their own business online, but they don't know how, because they don't have the money. Insert hive and the ctp swarm.
Start Earning Today
If you would be interested to try this affiliate marketing thing for free, then join the Start Earning Today program and this will be your first step as an affiliate marketeer.
After signing up for the different steps for the start earning today funnel it will lead you to clicktrackprofit.com. When you are there, then go to the menu and click training. If you start doing the training things will become clear, but if you don't then clicktrackprofit is a website that can be quite overwhelming.
Good luck and see you on the other side 😎