I was talking in an earlier post about how I am trying to attract a dime. I got a dime as change on the NJ Turnpike yesterday but that doesn't count. I want to find a dime.
When I got my Mitsubishi Mirage I noticed them all over. They didn't magically appear but because I started thinking about Mitsubishi Mirages I noticed them all over.
Just like that, I am certain that there are dimes laying around waiting to be found.
I have an intense desire. I am actually dreaming about finding dimes. I haven't found one yet but have found countless pennies that I never noticed before and a nickel this morning.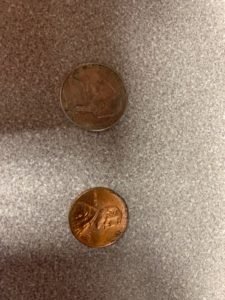 The other day at the outlet store I got so excited to find a penny. It was a little embarrassing because I was in a crowd of people and picked that penny right up.
I will keep you updated on my experiment. I know I am going to find a dime soon and I am going to cherish it.