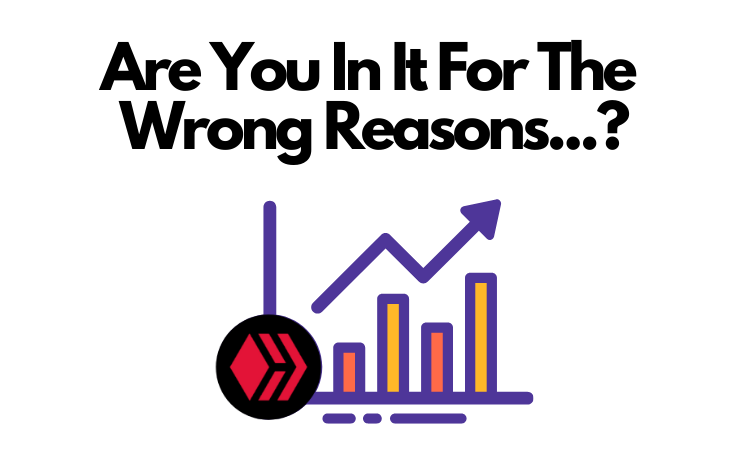 "I'm here for the technology...!"
That was the popular statement a few years ago when someone was questions about their involvement with crypto. The days of 10x gains daily are a thing of the past, but that was a way to let people know (or at least pretend) that you weren't just about the gains!
Let's be honest for a second....We're here for the gains!
The issue I think that plagues crypto isn't that we all wanna make a bit of profits here and there...It's that we have a super short level of patience to get there...

This is a reply to a Tweet I made this past week... @Coingecko asked on Twitter what would we spend $100k on in the crypto world...Of course I chimed in....Hive!
The reply came pretty quick from someone who had gotten into HIVE, invested and for the past few weeks had been losing everyday.
Welp.....Here comes my 'in it for the technology' speech!
I started on this blockchain in December of 2017....And with that, I told myself I'd judge how I was doing 5 years later. Meaning, all I would do for the next 5 years is...Accumulate.
I didn't care about what the price was, because I wouldn't sell. I would just stack. And do everything I could to raise as many HIVE tokens as I could....In fact, when the prices dipped, I smiled and bought more!
O.K. I admit, a big chunk of the people in this crypto stuff don't care at all about the long term...They want the quick gains. They see these massive price swings and try to beat the market...Get in and get out, take your profits and run!
I see so many similarities within the affiliate marketing space that @clicktrackprofit operates in as well...
"Get in, get out....Make money quickly or else we'll try something new..."
Rarely do you find 1 year plans, much less 5 year game plans...People get into this stuff, and try to strike it rich. When they don't make those big gains after a few weeks...They give up!
For years we called this 'slot machine marketing', just keep pulling the wheel until you strike it rich...
The big issue isn't that they 'try new things' it's that they give up on what they have currently been working on and start all over in a new opportunity.
And I see it here in crypto too...
People have given up on HIVE, just to 'try new things' that often fail...So they find a new project, rinse and repeat!
This kills your momentum in anything you do online...Whether it's crypto or trying to start an online business. You have to stay the course and actually see things through.
Hey, I'm never going to claim to be the best investor on earth. My strategy is VERY boring...Dollar cost average and hold! They don't make movies about these strategies, Gordon Gecko isn't coming to congratulate me....
But for some reason, it feels right! I don't stress out about the price swings, I enjoy the journey and keep trying to stack each and every day!
Is it the right reason?
Am I in it for the tech?
Who knows....But I sleep very well at night, knowing if I add just 1 more HIVE to my portfolio each day....I'm winning!
---