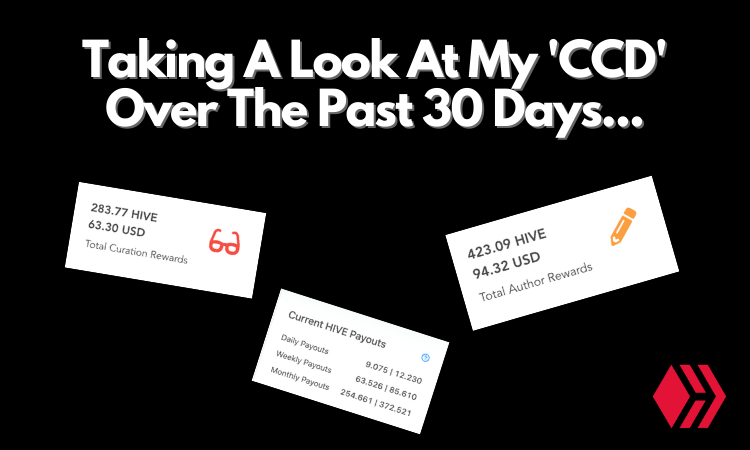 I wrote this post a few months ago where I had a dream of earning like 100 Hive per day from all my activities here on the blockchain...
I thought I would follow that up with what I've been absolutely infatuated with over the past few weeks thanks to the amazing stats provided to use from the @LeoFinance team at HiveStats.io
I'm calling this my CCD approach to my Hive journey.
Curation
Creation
Delegation
Combining these 3 amazing features of the blockchain, allows us to take a single HIVE token and watching it grow over time. On top of all that, we are also getting a nice little chunk of change every year from the inflation model for our staked Hive...But let's take a look at how powerful this can be for everyone looking to boost their tokens here!
My Curation Journey
This has been something I knew about since day one of joining the blockchain, but really didn't 'get it' until recently. What can I say, I'm a slow learner LOL
But it's one of the more confusing aspects of Hive, especially for newer members to the community.
In a nutshell, I've been able to use a combination of auto voting from (Hive.Auto) as well as manual curation to attain a curation APR of around 11%. It dips and jumps but it seems to average around that.
The key for me has been to get those upvotes in around 4-5 minutes after the post has been made. Again, super complicated and I won't even try to explain how that all works...But using automatic and manual curation seems to work well for me.
And here's the kicker....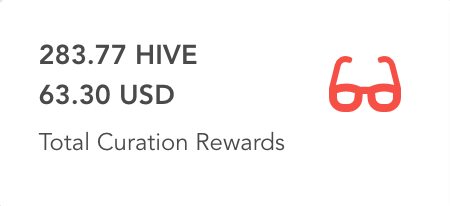 I've earned over 280 Hive in the past 30 days. Now I'm in accumulation mode for the next few years, so price doesn't really matter to me...But it's still 63 bucks from liking other people's stuff...
Amazing!
My Creation Journey
I expect this to me much more over the next few weeks, just because July was basically a write off for me.
But WOW!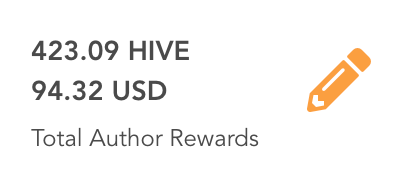 This blows my mind...
I could sit there and post content every day all day on Facebook, Twitter and Instagram and make a big fat ZERO...But here on Hive, I'm building my brand, growing my business and earning over 94 dollars a month...From doing something I love to do, PLUS hel;ing others in the process.
Does it get any better than that....?
Yup lol
My Delegation Journey
Another aspect of the blockchain that has turn 1 Hive into many is delegating your Hive Power.
And the tool I love right now for doing that is DLease!
I've been pretty picky to who I delegate to using this platform but at the end of the day, I'm getting an awesome 14% APR on the Hive I've delegated out to members of the community!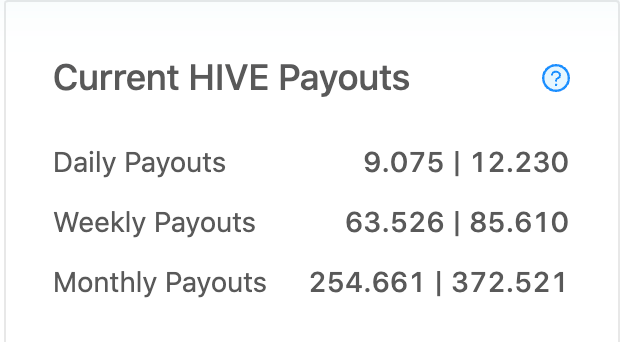 9 Hive per day!
254 Hive a month!
Did I ever mention how much I love this blockchain?
The Take Away
Here's the scoop...
We talk about blockchains and crypto and Hive doesn't always become front page news. There are issues here that are being worked on and I guess that's what happens in a truly decentralized platform.
But look at these numbers!
And I'm just a small fry on the big scheme of things here. But my account is growing simply by doing the things I would be doing anyways to build my businesses...Imagine that, being paid from your passions...!
And then taking the tokens you are earning, and flipping them into more tokens...Day in and day out!
This is such an opportunity and when you set your mind into 'accumulation' and building for the long term, you get really excited by all these tokens coming into your wallet every day, week and month!
Folks...We REALLY have it great here!
Because I'm typed an entire article about how to earn on the blockchain...And barely touched on the inflation from staking OR the amazing tribes and the tokens that you can earn ON TOP of the Hive you are earning thanks to Hive-Engine...
Makes you really wonder...How Hive is not a top 10 crypto currency?
---
Blockchain...Meet Affiliate Marketing!