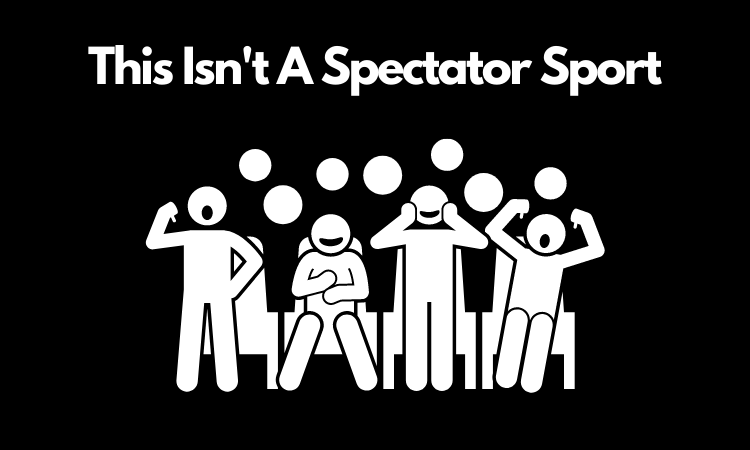 As entrepreneurs and content creators we put ourself out there...Daily!
And with that comes the critics, the finger pointing and the comments from everyone that seems to be sitting on the sidelines...
This is to be expected!
A few years ago, @jangle introduced me to a quote that put everything into proper perspective for me...
"If you are not in the arena getting your ass kicked on occasion, I am not interested in or open to your feedback. There are a million cheap seats in the world today filled with people who will never be brave with their own lives, but will spend every ounce of energy they have hurling advice and judgement at those of us trying to dare greatly. Their only contributions are criticism, cynicism, and fear-mongering. If you're criticizing from a place where you're not also putting yourself on the line, I'm not interested in your feedback....."
- Brene Brown
This absolutely blew my mind!
And wow, how much truth is in that....
Here's the thing about being in business for yourself (which includes being a content creator) in 2020...
You are 'out there'...Your opinions, your content, your products, your services...Everything is analyzed and scrutinized to no end...
And hey, some of the criticism is rightfully deserved...And when some of it can help us improve, we should pay close attention to it...
But then there are the spectators!
The people sitting on the sidelines, with no skin in the game that seem to just take shots at the people that do put their heart and soul into this stuff...
Yup...Expect them!
These people will be there...Always in the audience, and to be honest...There isn't much you can do about them.
A lot of their 'anger or frustration' comes from a few things...Mostly because they haven't found the courage to step out from behind the keyboards and....
Put their own skin in the game!
Like I've said...Expect it!
It'll be there and you'll attract a lot more 'comments' and insults thrown at you the longer you put yourself out there...
Part of being in this business is to develop the skin to deal with these kind of people....They aren't 'against' you, they are more frustrated that they haven't found their calling yet...
At least that's what I like to tell myself LOL
Because at the end of the day, and I mentioned this in my live stream last night, I wanna see everyone win!
Every singe creator and HIVE community member, I truly in my heart of hearts, wanna see you WIN! And win big!
So for everyone on the sidelines...Get off it! Get in the game and enjoy this journey...It's very rewarding and when you plug into this community here, I'm sure you'll agree...
You just can't beat the experience!
---
The marriage of the blockchain and affiliate marketing is HERE!
=> Join Start Earning Today Now!