Hello here your friend @ junior182
Today in this post I want to show you my first rewards on the https://ctptalk.com/ platform, 8 days ago I made my first PostWelcome ClickTrackProfit.com to the Steem chain on this platform by welcoming you to https://clicktrackprofit.com To this great steem house that opens up to many users, with this post I got a reward of 160,247 CTP.

My second post Ctptalk.com I made was the great consequence that other sister platforms are going through with the economy of their currency that have fallen too much for the users do not stagnate even if it is a percentage of their reward, if not what they have done is sell when they see As the currency lowers its value, it does not provide a bit of sand to support that project. Apart from the existence of an impromptu person who does so, it is to damage and take advantage of the project, creating content with spam, plagiarism and copy and paste. I know that there are many people who make life through this platform because the economy of their country is strong, there is a lot of unemployment, their only income is what they receive by this means, as is the case that I live in Venezuela is my only income, it is This post my reward was 175,536 CTP.


Finally, I made a post about my first CTP investment, and I have confidence in this new project, which was to buy, touch CTPM to undermine it, this has been fantastic for me so far, it is received, touch additional ones thanks to this decision I made. So far I have accumulated 21,906 CTP ooh this is great, but the reward I got for this post was 189,962CTP

Now I want to show you how much profit I have made if I take it to steem.
Currently in the market the value of this currency is ah Sell: 0.066901 STEEM and Buy: 0.074 STEEM
In the first of 160,247 CTP


In the second of 175,536 CTP


In the third of 189,962 CTP


In mining 21,906 CTP

With this reward of 547,651 CTP I can exchange it, but this opportunity I will invest and stake it to support this platform and in the future have greater reward with this long-term investment.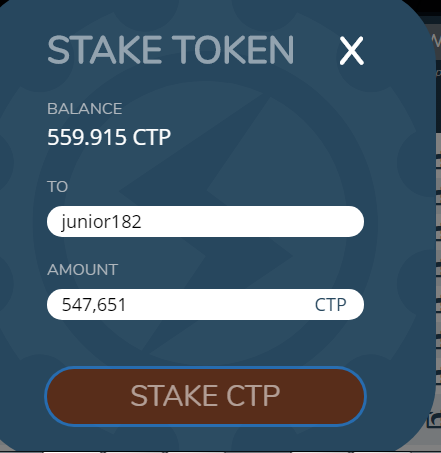 Source of the images: They are screenshot of my ctptalk.com block and my steem engine purse
Thanks to the ctptalk.com team and @jongolson for giving us this great project that you will have good fruits ....
Let's climb to the future