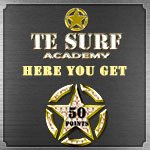 Hello Hive Blog friends,
Today was a very busy day offline so it does not give me much time to get my daily routine things done. I do start every day with one of my highest priorities. That would be TE Surf Academy. What I like most is that it lets you know which TEs are the most active listing the top 100. Do you have a TE and is it in there? The sites at the top of the list get the most traffic.
My next item high on my priority list at least for the month of November is #HiveBloPoMo. My biggest handicap has been inconsistency in the blogging because of my offline work which is very important to me also.
The next item on my must do list is to get ready to help my #CTP Team ... The Soaring Eagles. I do that by lining up several CTP Badges that I can get right after reset. And then I do all of the CTP Daily Tasks that I can. I do have one that I need to work on and that is the tracking task. I use Hits Connect for tracking and promote CTP but get zero credits for it. I will get it figured out someday. Not stressed out about it though as this is such an awesome community of great people.
Take care and be safe.
Ken



Let me know if you would like my link to join.
You can connect with me in FB or Skype
My ID in both places is ken.wolff1