Focused on Using My Fiat Investment Toward Increasing My HE-Index Holdings This Week!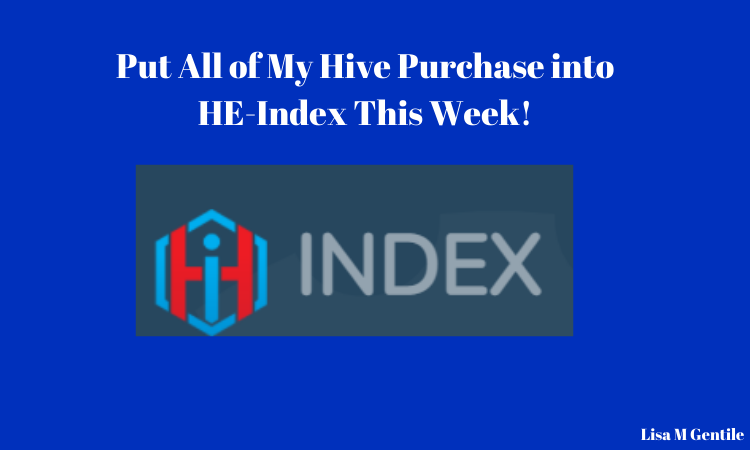 Image created in Canva.com
Well All But 0.50367544 Swap.Hive
The primary reason for this was to increase my passive income from holding more HE-Index. I bought a little bit this last Tuesday after I won the 30 Hive from the giveaway on the Crypto Maniacs 100th Episode Podcast.
Here is the post I wrote about that.
HE-Index Holdings as of yesterday: 1,379.10189537
HE-Index Holdings after using 11.394 Swap.Hive to purchase 20 more Index tokens: 1399.10189537

I didn't take a screenshot of the 2nd purchase for 1 more HE-Index.
With that I am 100.8810463 HE-Index tokens away from my 1500 goal. Or looking at it another way, I am at 93.27% of my goal.
There is a secondary reason for my choice. After doing all of the math on my other goals I realized that while I had done by weekly Hive purchase, I had not used it to purchase any tokens. To be honest I didn't really want to do all that again so I just used 11.394 Swap.Hive to purchase 20 more HE-Index tokens and made it very simple.
The Hive was from my purchase and from selling some other tokens.
I also did my weekly Hive purchase on Thursday night instead of waiting till yesterday. I had to start work at 8 am and work till 1 pm and I didn't do any online work before that.

A Little More Hive Power

Last week I was at 4580.811 HP. So really only 10 more from claiming rewards. But still moving forward.

Onto Rest of My Goals Progress
CTP Power on CTPtalk:
Total as of 3/19: 44508.434
3/20 Staked 100.061 New total: 44608.495
3/21 Staked 20.886 New total: 44629.381
3/22 Staked 10.842 New total: 44640.223
3/23 Staked 17.231 New total: 44657.454
3/24 Staked 21.973 New total: 44,679.427
3/25 Staked 24.581 New total: 44704.008
3/26 Staked 20.488 New total: 44724.496
44724.496-44508.434=216.062
216.062/44508.434= 0.0048544057964385 X 100= 0.485% increase in CTP Power
50,000-44724.496= 5,275.504 or 89.44% away from my original first goal of 50,000 CTP Power
CTP Power on List Nerds
Total as of 3/19: 11,529.307
3/20 Claimed and staked 5.753 New total: 11,535.060
3/21 Claimed and staked 6.810 New total: 11,541.870
3/22 Claimed and staked 11.186 New total: 11,553.056
3/23 Claimed and staked 7.103 New total: 11,560.159
3/24 Claimed and staked 7.302 New total: 11,567.461
3/25 Claimed and staked 7.290 New total: 11, 574.751
3/26 Claimed and staked 7.925 New total: 11.582.676
11,582.676-11,529.307= 53.369
53.369/11,529.307=0.0046289859399182 X 100= 0.46% increase
in CTP Power
No real goal set here. Just increasing my stake to verify emails

As Usual My Biggest Increase is in ListNerds Holdings
ListNerds Staked List Nerds
Total as of 3/19: 301.255
3/20 Claimed and staked: 38.615 (Includes 32.826 from Solo Mail sent on 3/19 being verified instantly and 5.789 from passive ListNerds earnings) New total: 339.87
3/21 Claimed and staked: 6.533 New total: 346.403
3/22 Claimed and staked 6.610 New total: 353.013 Later in the afternoon I found out that I won a nice prize of 30 Hive on the CryptoManiacs Podcast today. I used 1/2 of it to invest in and stake 7.5 more ListNerds tokens. New total this afternoon 360.513
3/23 Claimed and staked 39.530 ( Sent out a Solo Mail on 3/22 that got verified instantly and paid 32.600 ListNerds plus 6.93 that I earned passively from having ListNerds staked) New total: 400.043
3/24 Claimed and staked 7.659 New total: 407.702
3/25 Claimed and staked 7.838 New total: 415.54
3/26 Claimed and staked 7.970 New total: 423.510
423.510-301.255=122.255
125.255/301.255=0.4058189905561733 x 100=40.58% increase in ListNerds staked
500-423.510=76.49 away from my 1st goal
423.510/500=0.84702 or 84.7%

Clients Are Getting Crabby Because the Calendar is Filling Up
It is getting harder to fit them in to get their taxes done in person. If it were me I would do what alot of other people are doing and just drop them off and wait for the call to pick up and sign them.
This last week was pretty stressful. Yesterday the phone wasn't ringing much. I was sitting right next to it and couldn't figure out was going on because when I checked there were voicemails. I finally asked Chris (my boss, the accountant) what was up with his phone. He figured out that it was on Do Not Disturb Mode. It was weird but I enjoyed it while it lasted. I did let one call go to voicemail on purpose after that. It was the same client who called earlier in the week and wouldn't listen when I told her that I don't deal with the tax preparation at all. When I listened to the voicemail it was the same question just like I thought.
Three weeks left!
That's all I have today! My nephew, his wife and their kids are visiting for lunch this afternoon. Have a great weekend and week. See you next time.
---
---