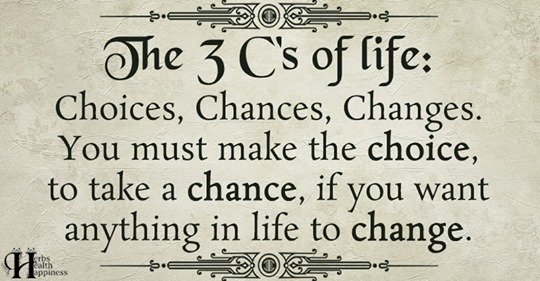 We all have to make Choices and these choices lead us to take Chances which in turn cause Changes in our lives.
Everyone makes many choices everyday. It starts with choosing to get out of bed and begin your day and just continues all day long as you go through your day. We make choices on what to eat, drink, what we will do, where we will go and how we will accomplish all of these things.
Taking chances maybe doesn't come close to making choices. But without taking any chances on anything would mean you would never achieve anything or go anywhere. Depending on the chances you take can have a positive or negative change in your life so hopefully we are always learning to try and take the smarter chances to bring positive changes to our lives.
Life is always changing, sometimes for the better sometimes for the worse. Many changes we are not totally in control of they just kind of happen. But the ones we are in control of it is wise to try and make the smartest choices and take the best chances to create the most positive changes we can.
Lets all make the choice to take a chance on bringing the best changes possible.