Happy 4th Birthday Tornado Traffic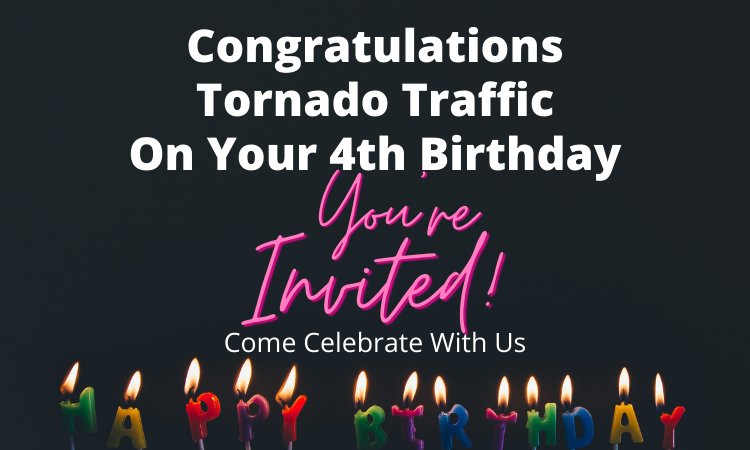 Hello Everyone,
Saturday July 31st is Tornado Traffic's 4th Birthday and we invite you to celebrate with us.
We are Having a Party
Come and Join the Celebration!
Special Surf Code
Let's get the party started with a special Birthday Promo Code!
Happy Birthday
. Surf 211 pages and receive 1000 credits, 1000 banner impressions and 1000 text ad impressions!
Last Chance
Saturday is also the last day of our Summer Referral Contest. The top referrer has only 4 referrals so it is still within reach to win the top prize of 25 USD and 5000 c/b/t. Invite your list!

Look for Luke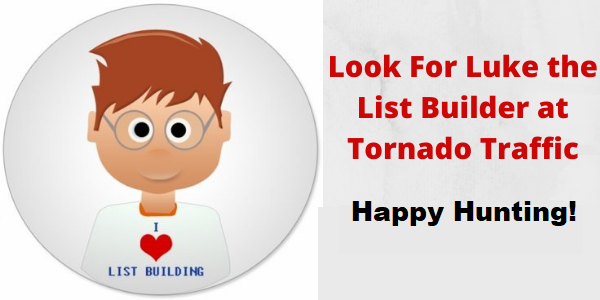 Luke the List Builder is also paying us a visit July 31st and August 1st. For those of you not familiar you will find Luke in the Scavenger Hunt at Click Track Profit. Here is what CTP says about Luke and the Scavenger Hunt.
"The Scavenger Hunt puts two of the most important groups of people together in our program and allows them to build relationships with each other....
The promo partners who sponsor the Scavenger Hunt & The CTP Member
Here's how it works....
We're on a mission! A mission to find Luke The Listbuilder.
You see Luke is travelling around the world of Listopia, and making stops at all the different countries. In these countries, his hiding at different stops within them."
If your not a member, click the banner below. It's FREE to join and they have a lot of fantastic training for internet marketers!


I hope you enjoy our Birthday Celebration!
To Our Mutual Success,
Steven Ackerman
Owner/Administrator
---
---