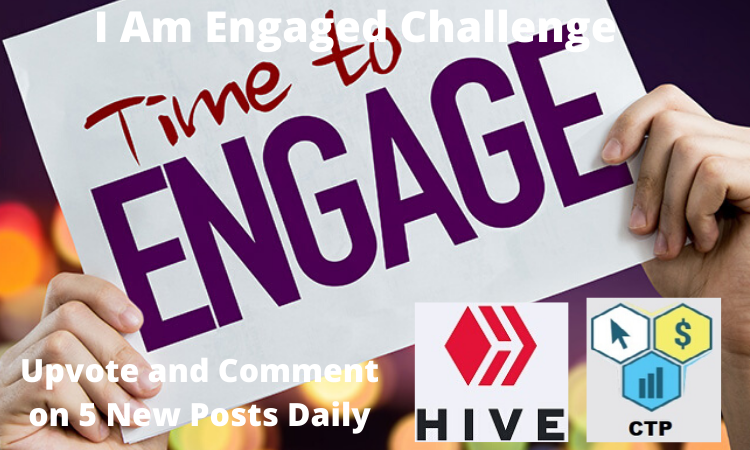 Hello Everyone,
Wow it has been 2 weeks since I started this challenge! I want to thank everyone that joined this challenge and gave feedback! I got some good ideas on how to improve. Keep the ideas coming.
There are several challenges taking place right now, so one of the suggestions was to combine this challenge with some of the other challenges using hash tags. It was also suggested that you add the post where you engaged.
Another thing you can do is to write a little bit about the post you are highlighting.
It is Day 14 in my "I Am Engaged" Challenge
For more information about this challenge check out the Day 1 post.
It all starts with Engagement
So here is the Challenge.
Engage with at least 5 people everyday by upvoting and commenting on their posts at CTP Talk or Hive.

Follow the people you engage with.

Write a post on your CTP Talk or Hive account listing the usernames and the post of the people where you upvoted and commented. Also write a little bit about the post you are highlighting.

Use the hashtag #IAmEngaged to spread the word
Today's Content
Here is todays post for the "I An Engaged Challenge"
I upvoted and commented at
On To Dolphin Status,
Steven Ackerman
P.S. If you have suggestions please let me know how we can improve this challenge