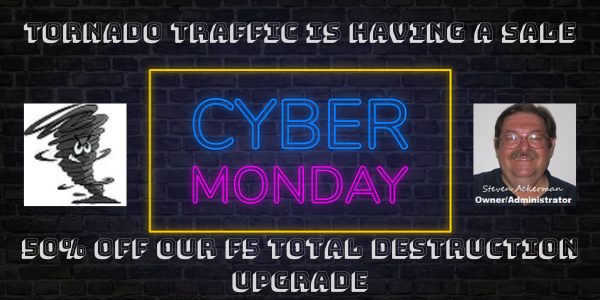 *** CYBER MONDAY Upgrade Offer! ***
Get a HUGE Discount on Our F5-Total Destruction Upgrade
This Upgrade is Normally priced at $9.97 monthly or $98.97 Annually.
For This Week Only we are offering this incredible upgrade for just
$4.97 per Month or $49.70 Annually.
That is a full 50% discount off the regular price!
Here's what You will get ...
1 Credit/click
4 Second Timer
Monthly Bonus Ads
1500 Bonus Credits
1500 Banners Credits
1500 Texts Ads Credits
35% Commissions On Referral Purchases
35% Commissions On Referral OTO Purchases
Random Referrals
To Our Mutual Success,
Steven Ackerman