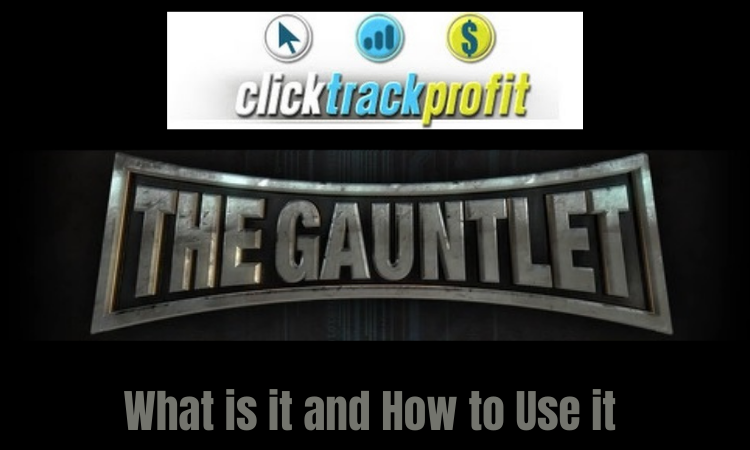 Hello Fellow Marketers,
The Gauntlet! What it is and What it is Not!
If you are familiar with Click Track Profit then you probably know about The Gauntlet.
What is The Gauntlet
The main purpose of this great tool is for your site to be reviewed by other members of CTP so that you can improve it and get better results.
I have added many pages that I have personally built. I have gotten some great feedback from the CTP members and have made changes accordingly. This system works if you use it for it's intended purpose.
I have been spending a lot of time in The Gauntlet the last few weeks and it has become very obvious to me that many people using it either don't understand what The Gauntlet is and how to use it or they don't care.
The Gauntlet is Not a Traffic Exchange
It is not designed for advertising your site.
It is not a place for your standard generic affiliate pages.
It is obviously not for promoting CTP as everyone looking at your pages is already a member. The exception to this is if you have built a Personal Splash or Lead Capture Page for CTP that you would like the members to review.
How Can CTP Fix the Problems
I have some ideas for Jon and Blain that may help make The Gauntlet much better at fulfilling it's intended purpose.
Set up a lesson plan just for The Gauntlet in the training area of CTP

Require that the lessons be completed before members can add sites to The Gauntlet.

Approve sites before they are added.

Set an expiration date for the added sites so they are not in there for years
without any improvements.

Change the comment section to list the most recent comments first instead of the
comments with the most votes.

Set a minimum number of words for comments.

Clean out dead or expired sites occasionally.
I invite everyone that uses The Gauntlet to please comment with your observations or suggestions so we can improve this incredible and invaluable tool.
Let's all help to raise the bar on The Gauntlet!
To Our Mutual Success
Steven Ackerman