If you have not been Playing this Game you don't know what you are missing. This is Awesome and Fun, you have to collect items to make meals and gain points for the week. There is A lot to take away from this game, and it's plays as you surf your Favorite Traffic Exchanges anyways. Every Site that is Set up for this Game their claims page is on every 25th Page. All you have to do is click on the Chef's Hat at the Top of the Page.
As you are surfing and looking for the chef's hat you are looking for items to make meals in your Recipe Book:
There are 10 different recipe books, each from a different country in the world. Each book contains 3 common recipes, 4 rare recipes and 5 super rare recipes.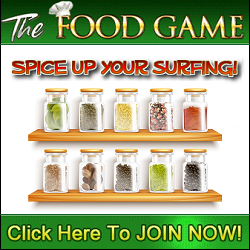 As you Gather the items to make your Items you can Click on the Prepare Button and get points for making that meal. It also gives you the Recipe to actually make the items you are claiming in real life.
You can buy and sell Items in the Market Place so you might need and item or two so you can finish your dish, or You might have Items you have too much of and want to sell it. You can do that too. There is so much you can to with this Game it's hard for me to get it all the info out there for you to really understand. Your Dashboard will give you a lot of info to start you out and keep you informed.
Weekly Featured Traffic Exchanges , Special Orders , and so much more. I am hoping to see you in my Downline or at least see you in the Leader board Every Week.

As you Know I have been Focusing on Downline Builders and I think is this one of the Best Set ups for Building your Downlines in Many Different Sites as you Play and build your Dishes.
Thanks for Reading and Hoping to see you soon.
Aaron Green
Skype: greensempire