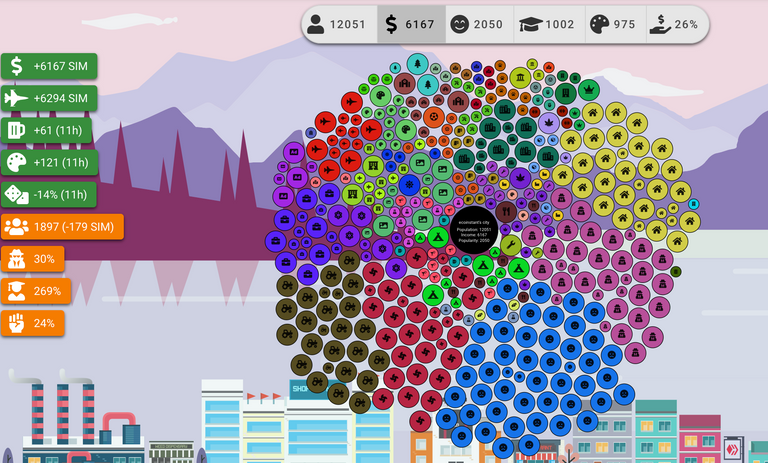 Let's try and figure out what we can expect from our new dcity president in the next 2 weeks.
First of all, he activated the War Tax and it is very clear why. He has got 68 Military Industrial Complexes and with the War Tax activated he increases his income by 50% in comparison with his base income. But in comparison with the average tax over the last weeks, it is even a 100% income boost. So the war tax is going to stay for the full duration of his term.
Another interesting thing is that he has activated the police tax, which is a cheap tax and does great work for those dcities that have a lot of banks, shopping malls and casino's. But it doesn't do anything for him. He hasn't got any of these cards.
It will not be a surprise that he has only the tier1 crime reduction technology. He doesn't need it.
To me this sounds like he isn't only after his own gain, but he cares about other people as well. But he does indeed profit greatly from the war tax too.
He has a lot of 2nd generation cards. Much more than the 1st generation cards. Also it looks like he doesn't sell a lot of cards.
I get that from the fact that he has loads of farms and wind turbines. Although he hasn't got a lot of parks. So he is at least selling those.
To me it looks like he has taken advantage of all the extra features the 2nd generation cards have brought.
He also seems to run quite a few events in his dcity.
Finally training homeless and immigrants is a core focus and is completely maxed out.
Going up the rankings is easier with 1st generation cards, but he clearly focuses more on 2nd generation cards. Possibly because those cards are a lot more interesting and diverse in comparison with the 1st generation cards.
Do you think this is an accurate description of our new dcity President? Or am I completely wrong? Do let me know in the comments.
——————
If you would like to earn some free crypto to invest in this awesome game, then check out the Start Earning Today program run by the CTP tribe. You might even end up with your own online business if you do!