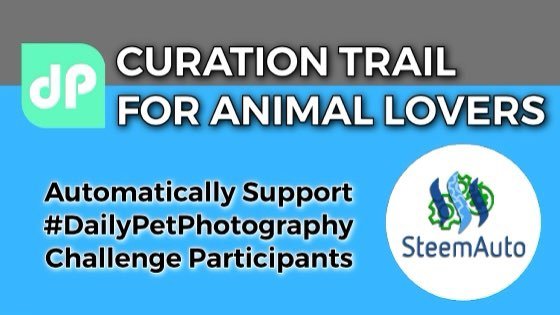 Help Us Support Fellow Animal Lovers

Recently we have launched several different services to help all of our community members to support one another. From our own DPET token with tipping bot and even a delegate and earn feature we have been building the foundation to the value of our community as a whole. Now we move into the next leg of this support circle, organizing our members into supporting each other by using the available services.



Image Credit @SteemAuto
Follow The @dPet Curation Trail
By joining our curation trail you are using the @SteemAuto service via SteemConnect to automatically follow the @dPet vote. There are a few ways you can set this up but doing it correctly will enable you to support fellow animal lovers by making use of any "Dormant VP" vs "Draining Your VP" while opening up the potential for curation rewards based on your vote value.
First, A Simple How To Follow Our Curation Trail:
| | Goto www.steemauto.com and Login/Register with SteemConnect as per usual, there is a chrome extension also available |
| --- | --- |
| | Webapp will look like this but please ensure your browser shows a secure connection with the https://beta.steemconnect.com/ at the beginning! Always beware of fraud! |
| | On the main page after signing in give @SteemAuto permission to use your vote with either method listed. |
| | Now on the main page it will show VP & settings, your vote will not be used below the threshold set there. Suggested 90-98% threshold to use any "Dormant VP" above the VP threshold. EG threshold 98% will allowing voting from 100% VP down to 98% VP then stop and recharge. |
| | In the menu click "Curation Trail" and then in the search box type "dpet" and search for our community trail |
| | Then simply click follow and you are basically done 👌 the default settings are to follow at 50% of the @dPet vote. You can also see by clicking on "View Active Followers" who is all participating in the community trail. |
| | Clicking on settings you may make adjustments as you see fit. Suggested is to leave at default as you will not drain your VP too quickly with the VP Threshold on main page set to 90% or above. If you find the drain too great on your account I would suggest adjusting on the main page the VP Threshold higher allowing for larger votes just fewer. |
Any Questions Feel Free To Ask!?!?
Second, Curation Rewards
Since the change in curation rewards to a 50/50 split we should all be trying to make best use of our votes wisely to gain as much from the added curation rewards. Put in terms as simple as possible, your outgoing vote values will determine potential curation rewards based on votes after yours. Shooting for the 5min mark is the best manual curation practice for rewards but when it comes to a trail we can structure the vote times to ensure curation rewards for earlier accounts with a larger vote following.
As A Trail Follower With A Smaller SP: You will want your votes to be as large as you can afford even if lowering the frequency and number of votes with "VP Threshold". EG in last step above setting to a "Fixed Voting Weight" of 50% will always follow at a 50% outgoing vote while my "VP Threshold" of 98% will allow for only 2-4 votes daily.


Visibility Comes From Number Of, Not Just Value Of, Votes!


Use the tag #dailypetphotography in your post. It doesn't have to be the first tag.
Include a photo of your pet. Actually if there are stray cats or dogs, or any pets you meet while you are out and about, they will also count.
One photo is sufficient for this purpose. If you want to post more, yes please
(Optional) Do let me know the name of your pet and your camera type.
No plagiarized photos are permitted! Not just for this challenge, but for any posts on the Steem blockchain.


DPET Tipping Bot
| | dPet Tipping Bot Is Running! Now let us start to tip the adorable pets, and animals post with DPET tokens on Steem! |
| --- | --- |
type !DPET x (x is the token amount, if don't type x it will default to 1) in the comment of the post you want to be rewarded
dPet will send you a message confirmation, then your token transfer will be made in the post author's steem-eninge.com wallet
You must have at least have 5 DPET token in your own wallet to call the dPet tipping bot. Each user can call the bot up to 10 times each day.


Delegate & Earn DPET Tokens
| | Delegate your Steem Power to help us speed up the dPet development on Steem |
| --- | --- |
In return, you will get rewards paid in dPet tokens every month based on the following formula : SP delegated x 30 x 0.001. For example, if you delegate 100 SP, your monthly rewards will be 100 x 30 x 0.001 = 3 dPet tokens.
WITHOUT your delegation, our dream cannot come true!

Join Us, We Only Nibble
| | Subscribe To Hive-181573 To Earn DPET Tokens Delegate To Earn Tokens Monthly, Share Your Pets & Tip Fellow Animal Lovers |
| --- | --- |