Welcome to one more faucet suggestion so you can accumulate some extra cryptocurrencies! Read the introductory article for more information.
Faucet of the day:
Other faucets already recommended:
But first, some warnings:
- I suggest using the [Brave browser](https://brave.com/) which has a built-in ads and malicious scripts blocker. As a bonus you can choose to get BAT tokens to see some ads, and donate BATs to sites you like. NOTE: Some of the faucets will not work if ad blocker is enabled. Disable at your own risk.
- No one will get rich with faucets. But as we are in a period of low cryptocurrency prices, faucets tend to give more coins, so it's a great opportunity to start accumulating some of them.
- Your coins won't be yours until you transfer them to a private wallet. And always remember: **If you do not control your wallet private key, you do not control cryptocurrencies**
- Some faucets pay an "interest rate" if you have coins in your wallet. Do not risk what you cannot afford to lose. Again: **If you do not control your wallet private key, you do not control cryptocurrencies**
- All faucet links I'm putting in here will be referral links. If you use them, you will be helping your dear friend here.

---
What the faucet offers
The faucet ESfaucet presents some differences from the other faucets i already talked about:
The first difference is that the minimum time to receive coins is only 5 minutes. However, you do not need to request the coins every 5 minutes, becuase your balance will go up over time. However, the longer the time between requests, the smaller the amount that will be accumulated.
Another interesting point of this faucet is that they have their own "currency" called ES-coin. It has its own faucet, and the more ES-coins you have accumulated, the more benefits you will have.
For example, there are claim bonus levels depending on how many ** ES-coins ** you have in your account:
6000 EScoins - 5% bonus on tap
10,000 EScoins - 10% on tap bonus
etc
In addition to these bonuses, ES-coins also gives you access to some other stuff, for example, if you miss a daily bonus day, you can buy that bonus day you missed with ES- coins.
Keep following this series, because at the end of it I will present an alternative that I think is even better for joining a Proof-of-Stake pool, so you can make your coins grow a bit more.
Coins distributed
ESfaucet offers a total of 12 different currencies (in addition to ES-Coin) that you can claim individually: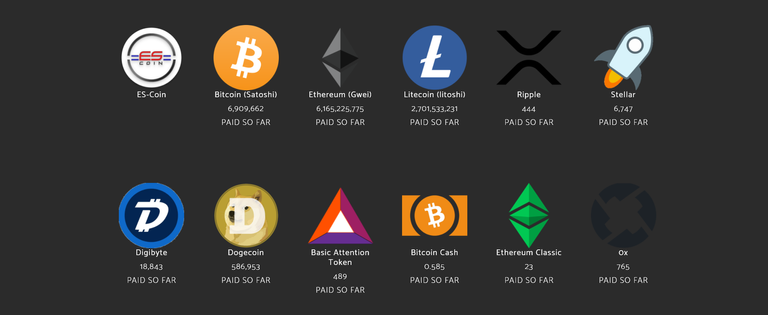 They are:
BTC
ETH
LTC
XRP
XLM
DBG
DOGE
BAT
BCH
ETC
0x
TRX
Although the faucets are unique for each currency, you can exchange them for your favorite currency on the internal tap exchange.
Other activities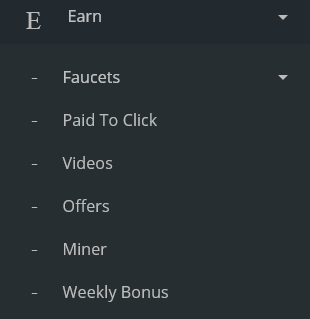 PTC (Pay-to-click)
Links were you receive some coins in exchange for a few seconds of your attention to view an ad. Each click leads to a specific page, with no other ads, and you have to stay on that page for a few seconds for your credit to be registered.
Videos
You can also watch videos to receive coins.
Offers
Here you can complete tasks in exchange for coins. Tasks vary between taking surveys, and installing and running programs.
Miner
Theoretically you would mine coins using your computer's processing. I personally do not recommend it, as mining is a little complicated and can decrease the life of your computer.
Weekly Bonus
Once a week you can request a bonus, that depends on how much ES-coins you have on your account.
Advertise
If you have a website or video to advertise and receive more views, you can use the platform itself to start a campaign.
Minimum withdrawal amount and withdrawal fees
There are some minimum withdrawal amounts, which vary depending on which currency you are withdrawing from, and some withdrawal fees.
However, some currencies, such as Digibyte, if you withdraw more than a certain amount, you will not pay any fees.
Another bonus is that if you have a Coinbase account, the minimum withdraw and fee values for some currencies (such as BTC) are considerably reduced.
How they make money
As is the standard with most faucets, ESfaucet makes money through advertising.
In addition to advertisements, promotions through the PTC and video viewing options are also another source of clear revenue for the tap.
My verdict
I've been using [ESfaucet] (https://es.btcnewz.com/auth/register?ref=cbaed0398d3dd2d86a3d) this tap recently, but it has a good distribution of coins, and the withdrawal I made (in Digibyte) was accomplished many problems.
The PTC and video viewing options can increase the coins you receive.
---
If this post is past the final payment date but you like what you read, consider watching this ad for 5 seconds to give me extra support!
---
Originally posted on Free Coins Everywhere. Steem blog powered by ENGRAVE.