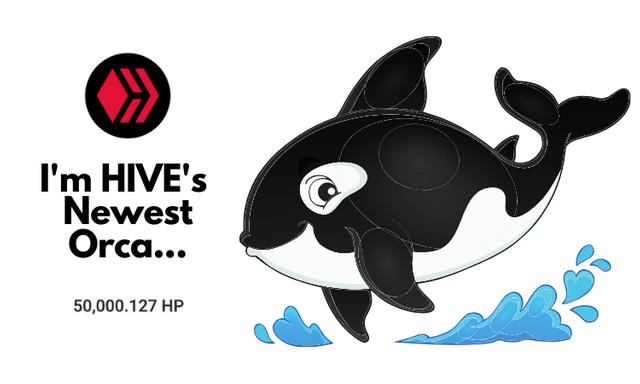 I'm one happy Hiver (or are we Hivians...?) today!
I reached a milestone on my crypto journey I thought I would never see in a million years...

Over 50,000 Hive Power!
And that means I'm pretty close or surpassed the amount of vests needed to be considered....I can't believe I can actually say this lol....An Orca on HIVE!
I joined HIVE on December 7th 2017 and at that time, the token was trading for like 5 bucks or something...And it went up to 8 dollars way before I could start stacking some big amounts...So the thought of getting to 5000 staked tokens was...Out of reach completely.
But I believed in this place....
The people were awesome. The product was so unique. And the experience was going to change my life!
I started with the goal of reaching 5,000 Hive Power before the end of 2018...And reached it way before I thought possible...
The bear market helped HUGE! I kept stacking as much as I could and created content almost every day since then...But it didn't stop there.
I believed in HIVE so much that I brought my entire business over to it and have been falling in love with that decision over and over again....The @clicktrackprofit community has been such a blessing...I can't thank you guys enough for believing in this blockchain and this vision so many of us have here :)
So enough of the sappy stuff, here's my pledge to YOU, the HIVE and CTP Community!
I believe in the upvote! The tips! The curation! And will make sure I'm always doing my best to pay in forward. I would have never have gotten here without YOU, the HIVE community, so I will make sure I'm doing my best to help your journey as well.
I will continue to bring my business and it's community here to HIVE. Everyone that had made the move to HIVE has loved every minute of it, so I will make sure there is always a steady stream of new Hivers / Hivians coming in :)
I will ALWAYS be a product of our product! Support this blockchain to the best of my abilities and rave about it as much as I can on my social media channels.
I'll do my best to turn this into a 'lesson' too for anyone just starting their journey here on HIVE. This sounds so cliche but...If I can do this, anyone can...
Show up. Everyday!

Create and curate amazing content!

Engage with the amazing people here!

When there is a dip, buy some tokens.

When you get a big upvote, be grateful for it. But never expect it. It's a gift, so treat it that way.
Thank you guys, for all your support. Every comment. Every engagement. Every reblog. Every upvote. Heck every downvote too. You have made this journey such a life changing experience for my business, my family and myself.
Let's go change the world one HIVE token at a time :)
And the best part about this journey for all of us...It's just beginning!
---
Wanna learn how to build your affiliate marketing business on the blockchain? We can help!