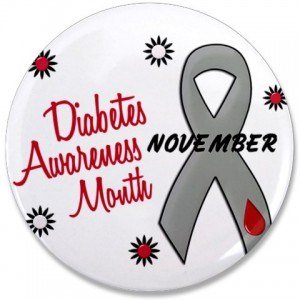 DID YOU KNOW...that until 2006, there was no global symbol for diabetes? Unlike many other diseases and illnesses that have symbols to identify with, the diabetes community didn't have one. So they decided to adopt a ** blue circle** as its universal symbol.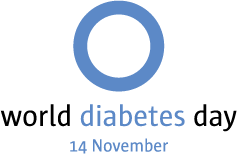 Image by World Diabetes Day "WDD"
That's an odd symbol, don't you think? Just a plain blue circle with no identifying letters to signify it's association with diabetes.
What is the purpose of the symbol?
The purpose of the symbol is to give diabetes a common identity. It aims to:
Support all existing efforts to raise awareness about diabetes;
Inspire new activities, bring diabetes to the attention of the general public;
Brand diabetes; and
Provide a means to show support of the blue circle. 1
What is the history of the blue circle?
Well, the icon was originally developed for the campaign that resulted in the passage of United Nations Resolution 61/225 "World Diabetes Day." 1
Why a circle?
A simple blue circle because of the IFD's belief in the circle's frequent occurrence in nature. Supposedly, across cultures, it symbolizes life, health, and Mother Earth. A circle also symbolizes globally an unbreakable unity. 1
Why the color blue?
The IDF states that the blue border of the circle reflects the color of the sky and the flag of the United Nations. They go on to further say, "The United Nations itself is a symbol of unity among nations, and is the only organization that can encourage governments everywhere to fight diabetes and reverse the global trends..." 1
That's a lot about the diabetes symbol and it's history I didn't know.
I want to learn all I can about this disease affecting me, so I'll be exploring different aspects of diabetes the rest of the month. I'd also appreciate it if you would accompany me on my mission.
See you in a few days.
Thanks
NOTE:
On its website, the International Diabetes Federation ("IDF") welcomes the widespread use of the WDD logo to raise diabetes awareness and support people affected by the condition. 2
The WDD logo is available for download as a zip file in the following languages from this site: http://worlddiabetesday.org/resources/wdd-2019/logo/
Arabic
Chinese
English
French
German
Hindi
Italian
Portuguese
Portuguese (Brazil)
Russian
Spanish
Before using the logo, though, they ask that you please read their usage guidelines. They also tell the public that, should they have any questions or need the logo in another language, they can contact WDD @ https://idf.org 2
---
Image by The American Diabetes from Days of Year.Com
1 Tenderich, Amy. "Why the Blue Circle?," Healthline.Com; https://www.healthline.com/diabetesmine/why-the-blue-circle#2; November 19, 2008.
2 My GLU.Org; "History of the Blue Circle," https://myglu.org/articles/world-diabetes-day-and-the-history-of-the-blue-circle. November 14, 2015
---