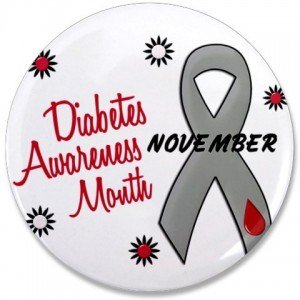 Image by The American Diabetes from Days of Year.Com
In my previous posts, I attempted to shed some light on the subject of why Diabetes Awareness Month is so important and why it's celebrated. We explored the universal symbol for Diabetes and how it came into existence. If you missed my previous posts or need a refresher, you can access them here:
Diabetes Awareness Month - November, 2019
Diabetes Awareness Month - Universal Symbol
In this post, I'd like to tell you why Diabetes is so devastating to certain individuals and who is at risk for the disease. I have a family history, so I knew that it was a possibility that I might one day have Diabetes.
I thought I was careful, but I got Diabetes anyway. My first sign was Pre-Diabetes. But I didn't take it seriously. Then I got other illnesses and health problems that escalated my Diabetes from Pre-Diabetes to full blown Type 2 Diabetes in a year's time.
I didn't pay attention to the things I was doing to my body that accelerated the disease. I do know that whenever I'm ill with sinus infections, take antibiotics, or get injections in my knee, I feel awful. That's because for me those items increase my A1C number to an alarming level.
The key to controlling your A1C level is to recognize what external stressors activate on your body and work against you with your Diabetes. We don't need any additional stress levels because we're already dealing with the effects of Diabetes on our body.
Now, for those at risk of getting Type 2 Diabetes. The people who are the most likely to be candidates and be at risk are individuals who:
are not active physically;

  or may have limited mobility like I do with arthritis in my knees.


are overweight;

  check with your doctor to find out what your ideal weight should be.


are a smoker;

   if you do smoke, find out how you can reduce it or stop.


are over the age of forth-five (45) years;

  although diabetes may strike sooner.


have a family history of either type of diabetes;

  I have a family history of Type 2, and diagnosed with Type 2 a few months ago.


have high blood pressure (HBP);

  I have a family history of HBP and have it myself.


have a high HDL cholesterol level;

  My cholesterol level is high.  HDL is normally good for you, but
  too much can give you an increased risk of heart attack and death.


are of a certain ethnicity;

  certain cultures are at an increased risk of getting the disease.


have a history of resistance to insulin. 1
If you have any of the above conditions, please see your doctor to check your A1C level. When I finally had my A1C level checked, it was 288. That was dangerously high. You A1C level can determine whether you have pre-diabetes or on the road to getting either Type 1 or Type 2 diabetes.
The reason Diabetes is so devastating is that it can cause serious complications to your health. We'll discuss those complications in my next post.
Thanks,
@justclickindiva
Happy rest of the week everyone with whatever you are working on.
---
SOURCES:
1 Warning Signs and Risk Factors
a) JustClickin logo created at CoolText.Com
b) Unless otherwise noted, all photos taken by me with my (i) Samsung Galaxy 10" Tablet, & (ii) FUJI FinePix S3380 - 14 Mega Pixels Digital Camera
c) Purple Butterfly part of purchased set of Spiritual Clip Art for my Personal Use
d) All Tribe logos used with permission of Tribe Discord Channel admins.
---


---
I SUPPORT THESE GROUPS